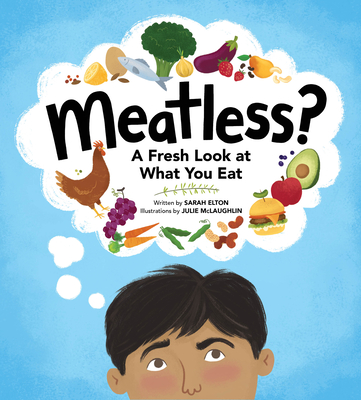 Meatless?
A Fresh Look at What You Eat
Hardcover

* Individual store prices may vary.
Description
Humans are eating more meat than ever before. At the same time, vegetarianism is capturing more widespread attention. From Meatless Mondays to vegan options, people are talking more about meat and whether or not to eat it. Journalist Sarah Elton tackles the topic by explaining what vegetarianism is, why people choose it, and how their reasons--including religion, animal rights, food security, and the environmental cost of eating meat--have changed over time. The book closes with practical tips for making the switch, and perspectives from vegetarian kids. As a conflicted meat eater herself, Elton encourages freedom to choose. Lively illustrations, sidebars, and sources, plus a glossary, index, and further reading suggestions make this a friendly, comprehensive introduction to why some people eat meat, why others don't, and what kids might consider when making that choice for themselves. LEVELING
Grade Range: 4-8
Fountas & Pinnell: T
Lexile: 1020L COMMON CORE
W.5.1,2,4,6,7,8,9,9b,10
SL.5.1,1a,1c,1d,2,3,4,5,5
RF.5.3,3a,4,4a,4c
L.5.3,4,4a,4b,4c,5,5a,6
RI.5.1,2,3,4,5,6,7,9,10

Owlkids, 9781926818436, 48pp.
Publication Date: May 16, 2017
About the Author
Sarah Elton is an award-winning author and journalist who specializes in writing about food. Her book for children, Starting from Scratch: What You Should Know about Food and Cooking, was published in 2014 to wide acclaim. Her bestselling books for adults include Consumed: Food for a Finite Planet and Locavore: From Farmers' Fields to Rooftop Gardens, How Canadians Are Changing the Way We Eat. Sarah was the food columnist for CBC Radio's Here & Now for more than a decade. She lives in Toronto. Visit sarahelton.ca and find Sarah on Twitter @SarahAElton. Julie McLaughlin is the Vancouver-based illustrator of the Norma Fleck Award-winning Why We Live Where We Live, and The Art of the Possible: An Everyday Guide to Politics.