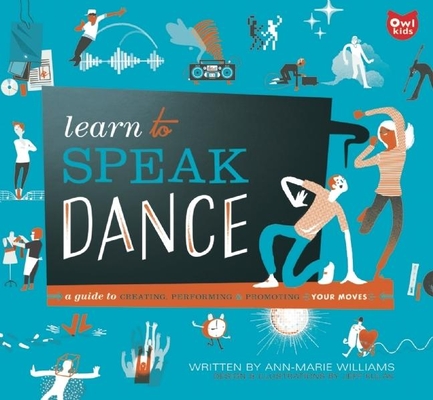 Learn to Speak Dance: A Guide to Creating, Performing & Promoting Your Moves (Hardcover)
A Guide to Creating, Performing & Promoting Your Moves
Owlkids, 9781926818887, 96pp.
Publication Date: August 30, 2011
* Individual store prices may vary.
or
Not Currently Available for Direct Purchase
Description
Watching a flashy music video or an episode of So You Think You Can Dance probably makes most people a little shy about their dancing skills, but we all know how to dance. After all, dance is just a mash up of everyday movement and imagination. And while a musician might learn how to play piano or guitar, a dancer's instrument is her own body. We just need to explore the unique, artistic voice inside that instrument -- and Learn to Speak Dance is all about helping kids do just that
Drawing upon years of experience as a dancer, and dance teacher, Ann-Marie Williams exposes every aspect of the world of dance -- from different dance styles from around the world to tips on choreography, costume design, performance, staging, and even managing a potential career. She's also brought along the expert opinions of a number of other dancers, set designers, choreographers, and reality TV judges, who share great tips and anecdotes throughout. But there's no need to get stage fright -- Learn to Speak Dance isn't an audition, a lecture, or even a class. It's simply a revelation of just how far your own two feet can take you.
About the Author
Ann-Marie Williams is the director of the Movement Lab, a Toronto dance school for kids. She holds an MA in Dance, a BFA in Theater-Dance, and is also a fully certified ballet teacher with the Royal Academy of Dance. She has over a decade of teaching experience in a variety of settings from university dance programs to parks and recreation classes, and is a frequent contributor to The Dance Current. Williams lives in Toronto. Jeff Kulak is an award-winning designer-illustrator. From his studio, a converted room in a former nunnery, he creates art for magazines and theater posters. He lives in Montreal.
Praise For Learn to Speak Dance: A Guide to Creating, Performing & Promoting Your Moves…
"A sparkling addition to performing-arts sections."
School Library Journal, June 17, 2011

"...fun, smart, and unflaggingly supportive."
Quill & Quire, July 8, 2011

"Aspiring choreographers, musicians, stage managers and set designers will find start-up pointers..."
Kirkus Reviews, August 15, 2011

"This book gives some really solid tips from a pro dance teacher, and a good look at what it takes."
Shelf Candy Blog, October 20, 2011

"The language is right - hip and cool without trying too hard...The book helps to make dance accessible rather than mysterious...It really was written in an encouraging tone."
4dancers.org, October 20, 2011

Moonbeam Children's Book Award, Non-Fiction - Young Adult category, Bronze
Advertisement