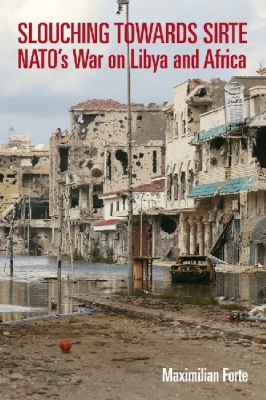 Slouching Towards Sirte (Paperback)
NATO's War on Libya and Africa
Baraka Books, 9781926824529, 352pp.
Publication Date: November 28, 2012
* Individual store prices may vary.
Description
Shortlisted for:
Mavis Gallant Nonfiction Prize Awarded by the Quebec Writers' Federation
A comprehensive analysis, this book examines all the justifications and myths about the war on Libya and methodically dismantles them. It delineates the documentary history of events, processes, and decisions that led up to the war while underscoring its resulting consequences. Arguing that NATO's war is part of a larger process of militarizing U.S. relations with Africa—which sees the development of the Pentagon's AFRICOM as being in competition with Pan-African initiative—this account shows that Western relations with a "rehabilitated" Libya were shaky at best, mired in distrust, and exhibiting a preference for regime change.

About the Author
Maximilian Forte is an associate professor of anthropology at Concordia University in Montreal. He is the author of Indigenous Cosmopolitans, Indigenous Resurgence in the Contemporary, and Ruins of Absence, Presence of Caribs: (Post) Colonial Representations of Aboriginality in Trinidad and Tobago. He lives in Montreal.
Praise For Slouching Towards Sirte: NATO's War on Libya and Africa…
"Slouching Towards Sirte is a penetrating critique, not only of the NATO intervention in Libya, but of the concept of humanitarian intervention and imperialism in our time. It is the definitive treatment of NATO's war on Libya. It is difficult to imagine it will be surpassed." —www.gowans.wordpress.com
"Forte's allegations that NATO's war was manufactured by liberal interventionists and 'iPad imperialists' whose agenda to disrupt African independence and execute regime change under the 'fig leaf' of saving lives are chilling—and persuasive. . . . Even though Forte couches descriptions of Gaddafi in amorphous, guarded language, he isn't an apologist. In this provocative and unabashedly direct book, Forte speaks truth to power." —www.ForewordReviews.com
"a meticulously documented study in hypocrisy: that of the U.S. elite, of the Gulf ruling classes who have lately welded their agenda directly onto that of the United States, and of the liberal bombardiers who emerged in the crucible of 'humanitarian' wars of the 1990s only to re-emerge as cheerleaders of the destruction of another Arab country in 2011.(…) Forte is able to bring to bear evidence that NATO carried out extensive war crimes during the 'liberation' of Sirte, and the evidence is impeccable…" —Max Ajl