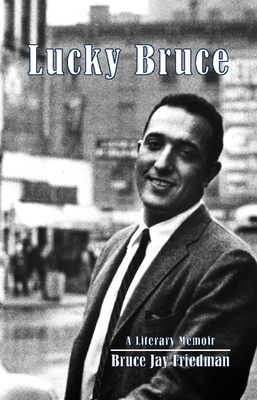 Lucky Bruce
A Literary Memoir
Hardcover

* Individual store prices may vary.
Description
Like a Twilight zone with Charlie Chaplin-Mario Puzo
Writer, screenwriter, playwright, editor, actor, teacher: Bruce Jay Friedman has done it all, charming the glitziest industries of American golden-age culture for more than half a century. Lucky Bruce is his long-awaited memoir, and it's everything we'd expect and more: here is Friedman at his best, waltzing from Madison Avenue to Hollywood and back again, and reilluminating with brilliant clarity the dazzle of post-war American life.
Self-effacing, wry, sharp, and laugh-out-loud funny, Friedman details with lovable candor his friendships and rivalries with the greatest writers, actors, publishers, directors and personalities of the last fifty years. He stands shoulder-to-shoulder with Steve Martin and Woody Allen. He's a dynamo of comedy and a recognized master of American letters. And in
Lucky Bruce
, whether he's fist-fighting with Norman Mailer, explaining to Richard Pryor why there are so few Jewish junkies, or writing screenplays in a closet with Natalie Wood as his secretary, Friedman is the king of understated charm. With cameos by Joseph Heller, Philip Roth, Mario Puzo, Lillian Hellman, Warren Beatty, Marlene Dietrich, Brian Grazer, Candida Donadio, Crazy Joe Gallo, Joyce Carol Oates, Jack Richardson, Isaac Bashevis Singer, Kurt Vonnegut, and the irreplaceable Elaine, Lucky Bruce is moving, scandalous, and guaranteed to shed new light on the brightest of American luminaries ... with Bruce Jay Friedman bright among them.
Bruce Jay Friedman is a best-selling author, an Academy Award-nominated screenwriter, a magazine editor, a Hollywood actor, and a celebrated playwright. He lives in Manhattan, New York.
Praise For Lucky Bruce: A Literary Memoir…
A great comic actor, if he or she sticks around long enough, might win not an actual Oscar but a consolation prize: a lifetime achievement award. The National Book Award needs something similar for America's comic writers. Among the first I'd nominate is Bruce Jay Friedman, whose prose, over the past five decades, has mostly been a pure pleasure machine. . . . There's a bit of Larry David in Mr. Friedman . . . There's a bit of Joseph Heller and Nora Ephron and Peter De Vries and Calvin Trillin and early Philip Roth in him too. . . . Mr. Friedman returns now with Lucky Bruce: A Literary Memoir, a buoyant book . . . about a kid from the Bronx who finds early literary fame; fritters away some of his prime years, dabbling in movies and theater; makes and loses a load of money; eats very well; has close and funny friends; sleeps with more than his allotment of beautiful women; and, agreeably for his readers, has a way with anecdotes."DWIGHT GARNER, New York Times

"Jaunty, dishy ... Highly readable."New York Times

"Delightful ... one of those memoirs that's a large, refreshing pleasure, and worth pushing aside everything else to read."The Longest Chapter

"A literary star, frequently mentioned alongside Bernard Malamud and Philip Roth ... In Lucky Bruce, readers get fresh, amusing stories from Friedman's life in letters."New York Times Style Magazine

"Friedman tempers hot remarks with humor (often hilarious), and affection for friends and foes alike ... refreshingly candid ... never mere dish."WSHU Public Radio

"Lucky Bruce is no ordinary self-story; it's a delightful addition to the catalogue of the last Mark Twain Leviathanswriters like Mario Puzo, Joseph Heller, Norman Mailer, and Kurt Vonnegut."Brooklyn Rail

"In this rousing memoir, [Friedman] relates taking on Natalie Wood as a secretary, helping Barbra Streisand in from the rain, and gaining Mario Puzo as a close friend. yet Friedman is refreshingly down to earth. He shares his journey from the Bronx to Broadway with wit, charm, and a distinctive voice ... Highly recommended."Library Journal

"A terrific memoir, informative and invigorating. As I was reading it, I found myself going slower and slower because I began savoring the humor, wit, and pathos." Ha Jin

Lucky Bruce is a deeply funny memoir from one of the most deeply funny writers in American literature. Bruce Jay Friedman has written yet another masterpiece. Andy Borowitz

[A] hilariously juicy memoir... A life story that consistently charms with candor and the seasoned wit of a master storyteller who's certainly been around the block... [T]here are plenty of stories here to solidify Friedman's ranking as a supreme satirist.Kirkus

"A true testament to decades of hard work ... in true Don Quixote fashion, Friedman is fascinated by everything going on around him."East Hampton Star
Biblioasis, 9781926845319, 275pp.
Publication Date: October 11, 2011
About the Author
Bruce Jay Friedman: Novelist, playwright, short story writer and Oscar-nominated screenwriter Bruce Jay Friedman was born in New York City. Friedman published his first novel Stern in 1962 and established himself as a writer and playwright, most famously known for his off-Broadway hit Steambath (1973) (TV) and his 1978 novel The Lonely Guy's Book of Life. In addition to short stories and plays, Friedman has also published another seven novels, and has written numerous screenplays, including the Oscar-nominated Splash (1984). He resides in New York City with his second wife, educator Patricia J. O'Donohue.