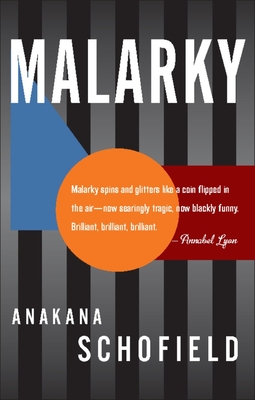 Malarky
A Novel in Epipodes
Paperback

* Individual store prices may vary.
Description
WINNER OF THE AMAZON.CA FIRST NOVEL AWARD, 2013
WINNER OF THE DEBUT-LITZER PRIZE, 2013
SHORTLISTED FOR THE ETHEL WILSON FICTION PRIZE
A NEW STATESMAN READ-ALL-ABOUT-IT SELECTION FOR 2012
A BARNES & NOBLE DISCOVER GREAT NEW WRITERS PICK, 2012
A SALON.COM WHAT-TO-READ AWARD-WINNER, 2012
A TOP FIVE BOOK PICK, CHATELAINE
AN iTUNES CANADA BEST OF 2012 FICTION PICK
AN AMAZON.CA BEST BOOK OF 2012 EDITOR'S PICK
A LARGEHEARTED BOY FAVORITE NOVEL OF 2012
A NEXT BEST BOOK BLOG TOP 3, 2012 "A caustic, funny and moving fantasia of an Irish mammy going round the bend."
--Emma Donoghue, author of ROOM Our Woman will not be sunk by what life's about to serve her. She's caught her son doing unmentionable things out by the barn. She's been accosted by Red the Twit, who claims to have done things with Our Woman's husband that could frankly have gone without mentioning. And now her son's gone and joined the army, and Our Woman has found a young fella to do unmentionable things with herself, just so she might understand it all... Malarky is the story of an Irish mother forced to look grief in the eye, and of a wife come face-to-face with the mad agony of longing. Comic, moving, eccentric, and spare, Anakana Schofield's debut novel introduces a brilliant new voice in contemporary fiction. Further Praise for Malarky AN EDMONTON JOURNAL FAVOURITE FOR 2012
A THREE-TIME BEST-OF-THE-YEAR GEORGIA STRAIGHT SELECTION "Anakana Schofield is part of a new wave of wonderful Irish fiction--international in scope and electrically alive."--Colum McCann "Malarky is a terrific read, a brilliant collision of heartbreak and hilarity written in a voice that somehow seems both feral and perfectly controlled. Anakana Schofield's Our Woman takes a cool nod at Joyce, then goes her own way in one of the most moving and lyrical debut novels I've read."--Jess Walter, author of Beautiful Ruins "We become comfortable saying that there's nothing new, and then something like Malarky comes along, which is new and old and different and familiar, but ultimately itself, comfortable in its own skin, wise and smart and crazy-sexy or maybe sexy-crazy--well, you just have to read it to understand. It's a novel that sets its own course, sure and steady, even when it seems like it might be about to go over the edge of the world."--Laura Lippman "This is the story of Anakana Schofield's teapot-wielding 'Our Woman': fretful mother, disgruntled farmwife, and--surprisingly late in life--sexual outlaw/anthropologist. Everything about this primly raunchy, uproarious novel is unexpected--each draught poured from the teapot marks another moment of pure literary audacity."
--Lynn Coady, author of The Antagonist "Anyone bold enough to name her book after a word so loaded deserves our attention. In Malarky Schofield pulls her long line tight--and lets go when we least expect it."--Michael Turner, author of Hard Core Logo "Malarky spins and glitters like a coin flipped in the air--now searingly tragic, now blackly funny. The language is joyful and exuberant, the characters thoughtful and deeply felt. Brilliant, brilliant, brilliant."--Annabel Lyon "Good writing and dark wit always excite me and they come together thrillingly in this book. It has a quiet grip on the strangeness of the interior and exterior worlds of love and politics. I delighted in the writing and the scope."--Jenny Diski Anakana Schofield is an Irish Canadian writer of fiction, drama, essays, and criticism. She contributes to the London Review of Books and The Globe and Mail (among others). She has lived in London, Dublin, and Vancouver; Malarky is her first novel.

Praise For Malarky: A Novel in Epipodes…
"A fascinating voyage into the mind of a woman embattled ... absolutely beautiful."Toronto Star

"A miracle ... move over, Molly Bloom."Ann Kjellberg, Little Star

"Malarky becomes truly compelling when Our Woman embodies an existential strangeness. In certain moments, we are not so far from Beckett's Molloy - Our Woman comes close to enlivening not only the political and the personal but also the human. Schofield has true promise for this kind of writing, and it is there that I hope she next turns her sizable gifts, in the book that will surely follow this resoundingly successful first novel"San Francisco Chronicle

"One of the season's best reads"The National Post

"Quirky, raucous and utterly unconventional."Reader's Digest

"A glorious, breathless romp through the mind of an immensely likeable woman"Slightly Bookist

"One of the most vivid fictional creations to come along in years... Schofield starts at a pitch of inspiration most novels are lucky to reach at any point and remarkably sustains that level all the way through."The Montreal Gazette

"This is a brilliant book. Finely drawn, deceptively muscular, and pulsing with warm intelligence and wit"The Rover

"Schofield's brilliant storytelling in Malarky is among the most engaging I've ever encountered."The Longest Chapter

"Malarky is an exemplary read ... I look forward to the next of Anakana Schofield's novels."Scott Esposito, Conversational Reading

"Irish-Canadian literary critic Anakana Schofield's first novel is a tumultuous ride. Malarky asks questions without providing answers, chronicling the emotional, mental, and occasionally menial anxieties of Our Woman as she struggles with her own agency and desire. Set in contemporary Ireland, the book overflows with subtle and sometimes subversive allusions to James Joyce's Ulysses, Thomas Hardy's Tess of the d'Urbervilles, site-specific contemporary Irish art, and Catholic history. Yet Schofield's strong prose style and inventive approach to structure will likely reward readers unfamiliar with these cultural references."Quill & Quire

"Delightfully offbeat ... Schofield shows a deft - and altogether welcome - comic touch."The National Post

"The love of a mother for her son is the central theme of this novel. But the book has much to ask and much to say about many other topics as well, among them empowerment through sex, loneliness in marriage, the futility of war, the strains of immigration and the margins of mental health. Schofield's ability to tie all these together in such an original, quirky, tender and eloquent way is to be commended ... Malarky is an alternately beautiful, brilliant, profound, poignant and comedic work of literary fiction." The Winnipeg Free Press

"I loved this book Malarky ... I was gobsmacked."Sheryl MacKay, CBC Radio, North by Northwest

""Malarky is like nothing else, and what everything should be This is a book that will leave you demanding more of everything else you read."Pickle Me This

"Malarky is a wacky, dead serious book, and what stands out more than anything is its freshness in a sea of same-old, same-old novels.The Telegraph Journal

"A challenging but rewarding look at what happens to a mother when the bottom drops out."The Vancouver Sun

"Head and shoulders above many of its peers."The Georgia Straight
Biblioasis, 9781926845388, 222pp.
Publication Date: April 3, 2012
About the Author
Anakana Schofield: Anakana Schofield is an Irish-Canadian writer of fiction, essays, and literary criticism. She contributes to the London Review of Books, The Recorder: The Journal of the American Irish Historical Society, the Globe & Mail, and the Vancouver Sun. She has lived in London and Dublin, and now resides in Vancouver. Malarky is her first novel.
or
Not Currently Available for Direct Purchase