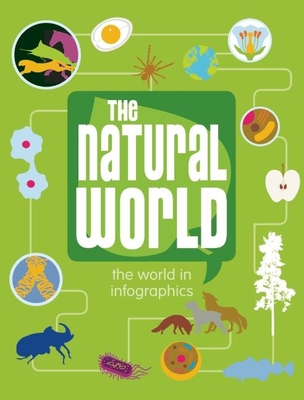 The Natural World (Hardcover)
Owlkids, 9781926973746, 32pp.
Publication Date: March 12, 2013
Description
Be amazed by the real-life size of the world's largest spider; discover which animal can jump the equivalent of a human leaping over a skyscraper; measure the length of a blue whale in buses, people, and basketball courts; and more
From the animal classification system and DNA to reproduction, food webs, and the world's fastest animals, this book explores the natural world using a wide variety of icons, graphics, and pictograms.
Highly visual and accessible, infographics are an increasingly popular way to introduce complex stats, facts, and figures to children, helping them to digest complex information on a number of topics.

About the Author
Jon Richards has 20 years of experience within the publishing industry working for Marshall Editions, Aladdin Children's Books, DK, and Tall Tree. As well as editing books, he is the author of more than 50 titles, mainly for children, on topics such as the environment and technology. He has lived in London and Sydney, and has traveled extensively throughout Europe, South and North America, Australasia, and Africa. During his 20 years in publishing, Ed Simkins has worked for Reuters, David West Children's Books, Marshall Editions, Egmont and Tall Tree. In that time he has designed hundreds of titles for both children and adults. He lives in London, England.
Praise For The Natural World…
"All living things belong to one of six kingdoms. Each kingdom is divided into groups, from phylum down to species. The graphic shows how a species, in this case the wolf, is identified using this classification system."
— from the book
Advertisement