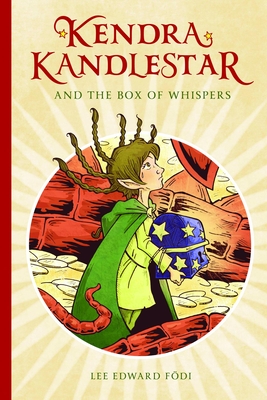 Kendra Kandlestar and the Box of Whispers
Book 1
Paperback

* Individual store prices may vary.
Description
IN SEARCH OF STOLEN SECRETS . . . For over a thousand years, the Box of Whispers has guarded the most precious treasure in the Land of Een. But when the box is suddenly stolen, young Kendra Kandlestar finds herself swept away on a magical adventure where doors speak in riddles, plants cast dangerous spells, and strange creatures lurk in every shadow. With only a handful of enchanted carrot seeds to help her, will Kendra be able to overcome these perils and find the fabled chest? There's only one way to find out: peer inside the Box of Whispers and discover a world of magic, monsters, and mystery.
Praise For Kendra Kandlestar and the Box of Whispers: Book 1…
This book would appeal to a variety of readers who like fantasy, adventure, or a strong story line. ~ Deborah Mervold, CM Magazine
 
As a perfect introduction or addition to any child's fantasy collection ~ Midwest Book Review
 
This cleverly crafted fantasy is full of magic, silliness, suspense and adventure and is an absolute hit with the little ones. ~ JustOneMoreBook.com
 
Editor's Choice ~ Vancouver Sun
Simply Read Books, 9781927018255, 240pp.
Publication Date: November 10, 2013