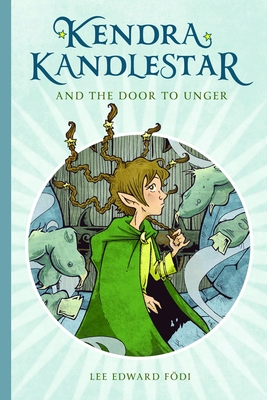 Kendra Kandlestar and the Door to Unger (Paperback)
Book 2
Simply Read Books, 9781927018262, 251pp.
Publication Date: November 10, 2013
* Individual store prices may vary.
Description
LOST IN A MAZE OF MYSTERY . . . Everyone knows that the creatures of the outside world are forbidden by magic to enter the land of Een. That's why Kendra Kandlestar is so surprised when a giant Unger arrives in the middle of the night to deliver a cryptic message: If she can find the Door to Unger, she will be able to unlock the truth about her long-lost family. But when Kendra finds herself trekking through the wilderness with a magic-peddling faun and a rebellious Unger, she begins to wonder if it's all just a clever trap to lead her into the heart of danger. Whom can Kendra trust? There's only one way to find out: peek through the Door to Unger and enter a world of magic, monsters, and mystery!
About the Author
Growing up on a farm, Lee Edward Fodi was subjected to various horrible chores such as cleaning up after chickens, pigs, geese, and younger siblings. There was a time when his father harbored hopes that his son would take over the family business--but these aspirations came to an abrupt end when the young author accidentally ran the tractor over his dad's outhouse (thankfully, his dad was not inside at the time). As a result, Fodi went on to pursue his love of art, mythology, and storytelling, all of which (luckily) do not require any skill in operating heavy machinery. He is the author and illustrator of "The Chronicles of Kendra Kandlestar" and has also illustrated several picture books, including "I'll Follow the Moon" and "The Chocolatier's Apprentice," a Canadian national bestseller. When he is not writing and illustrating, Fodi spends his time teaching kids how to daydream through his fun-filled creative writing workshops. He enjoys travelling, and especially exploring castles, mazes, tombs, and temples--not to mention tiny places hidden between the cracks of here and there.
Praise For Kendra Kandlestar and the Door to Unger: Book 2…
Awards and recognition for Kendra Kandlestar and the Box of Whispers:
2007 Gold Recipient, Mom's Choice Award, Gold Recipient
2007 Recommended Book, Canadian Toy Testing Council
2007 Nominee, Surrey Book of the Year
2009-2010 Recommended Book, Premier School Agenda for British Columbia
 
Awards and recognition for Kendra Kandlestar and the Door to Unger:
2009 Gold Recipient, Mom's Choice Award, Gold Recipient
2009 Nomine, Cybil Awards

Reviews of Kendra Kandlestar and the Door to Unger:
It would appeal to a variety of readers, including readers of fantasy and adventure stories. ~ Deborah Mervold, CM Magazine
 
In The Box of Whispers, Kendra Kandlestar helped us understand the magic of facing ourselves. Now she's back—older, wiser and full of spunk—to share with us the incredible power of resisting negativity and being gatekeepers of our own truth. ~ Just One More Book
 
Lee Fodi does it again with his excellent storytelling and amazing illustrations. ~ Armchair Interviews

Reviews of Kendra Kandlestar and the Box of Whispers:
This book would appeal to a variety of readers who like fantasy, adventure, or a strong story line. ~ Deborah Mervold, CM Magazine
 
As a perfect introduction or addition to any child's fantasy collection ~ Midwest Book Review

This cleverly crafted fantasy is full of magic, silliness, suspense and adventure and is an absolute hit with the little ones. ~ JustOneMoreBook.com
 
Editor's Choice ~ Vancouver Sun

Reviews for I'll Follow the Moon:
 
Gorgeous watercolors chronicle the journey of a baby sea turtle from its hatching to its first swim in the sea.
~ Kirkus Reviews, September 2005

Highly Recommended. ~ Gillian Richardson, CM Magazine
 
Awards for I'll Follow the Moon:
2007, Third Prize, Chocolate Lily Award