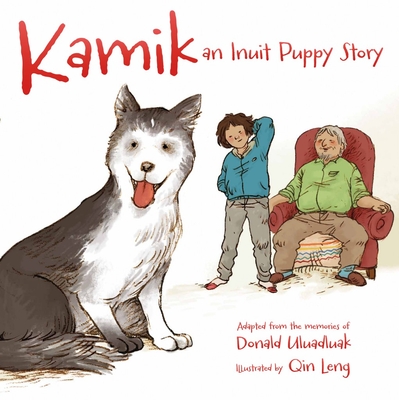 Kamik: An Inuit Puppy Story (Paperback)
An Inuit Puppy Story
Inhabit Media, 9781927095119, 32pp.
Publication Date: April 1, 2013
Description
When Jake finally gets a puppy to call his own, all he can think about is the fast, strong sled dog that his puppy will become. But Kamik is far from an obedient sled dog. He won't listen, he tracks mud all over the house, and he's a lot more work than Jake ever thought a puppy could be. But after a visit with his grandfather, who raised many puppies of his own while living out on the land, Jake learns that Inuit have been raising puppies just like Kamik to be obedient, resourceful, helpful sled dogs for generations.
About the Author
Donald Uluadluak is an elder from Arviat, Nunavut. He was raised on the land by his grandparents, who hunted game for survival. He was an elder advisor for the Nunavut Department of Education for several years. Recently he retired and began recording memories and recollections from his life to publish as books for future generations. Qin Leng works as a designer and illustrator in Toronto. She graduated from the Mel Hoppenheim School of Cinema and has received many awards for her animated short films and artwork. She has published numerous picture books for publishers worldwide.
Advertisement