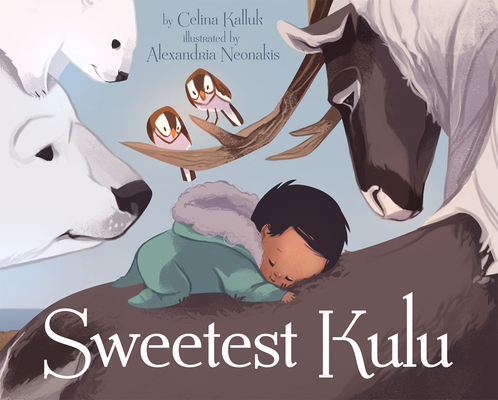 Sweetest Kulu (Hardcover)
Inhabit Media, 9781927095775, 32pp.
Publication Date: November 1, 2014
Description
A lyrical lullaby imbued with traditional Inuit beliefs This bedtime poem, written by internationally acclaimed Inuit throat singer Celina Kalluk, describes the gifts bestowed upon a newborn baby by all the animals of the Arctic. Lyrically and lovingly written, this visually stunning book is infused with the Inuit values of love and respect for the land and its animal inhabitants.
About the Author
Celina Kalluk is a throat singer who has performer in countries around the world, including Mali, Mexico, Greece, and at Windsor Palace as part of Queen Elizabeth II's Diamond Jubilee Celebration. She regularly sings as part of the touring cast of Artcirq Inuit Performance Collective, a community-based circus and multimedia company based out of Iglulik, Nunavut. She is also a visual artist and has illustrated several book covers and other literacy material. She lives in Resolute Bay, Nunavut, Canada. Alexandria Neonakis is an illustrator and designer from Dartmouth, Nova Scotia. She currently lives with her cat, "Kitty," in Santa Monica, California.
Advertisement