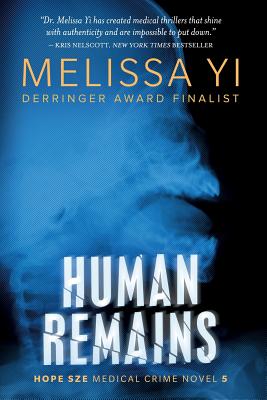 Human Remains (Paperback)
Hope Sze Medical Thriller
Windtree Press & Olo Books, 9781927341681, 298pp.
Publication Date: March 22, 2017
* Individual store prices may vary.
Description
When Dr. Hope Sze retreats to an Ottawa stem cell lab for a peaceful month of research, she discovers a dead man in the snow. Only the first in a series of corpses, both at home and around the globe. This time, the killer knows no borders and no conscience. Hope must extricate them all, while caught between the man who saved her life, the man who helps rebuild it, and a killer on an intercontinental rampage. "I love Dr. Melissa Yi's work. Her Hope Sze novels are sharp, original and edgy." -Kris Nelscott, New York Times bestseller.
About the Author
Melissa Yi is an emergency physician with an active practice and an award-winning writing career. CBC Radio's The Mystery Panel selected the previous Hope Sze volume, STOCKHOLM SYNDROME, as one of the best crime novels of the season. CBC Radio Fresh Air host Mary Ito concluded, "Very graphic. Very detailed. Very informative," launching STOCKHOLM SYNDROME onto the Kobo bestseller list. Publishers Weekly hailed the Hope Sze series as "entertaining and insightful" while Ellery Queen's Mystery Magazine admired her "nitty-gritty" and "sprightly style." Yi was shortlisted for the Derringer Award for best short mystery fiction. Her work appeared in Ellery Queen's Mystery Magazine, Sleuth Magazine, Jewish Noir, and the upcoming Montreal Noir. Her short stories also garnered critical praise, published in Fiction River Special Edition: Crime ("experimental...high quality"-EQMM) and Indian Country Noir ("impressive...moving"-Publishers Weekly). Doctor-wise, Melissa has worked as far north as Ivujivik, Quebec. Nowadays she stays closer to home, running codes in Eastern Ontario. She's cheerfully married to her high school sweetheart, with two loud and loveable children and a Rottweiler shepherd. She loves stories, yoga, blading, sustainable fashion, laughter, intelligence, and random craziness. http: //www.melissayuaninnes.com/ @dr_sassy on Twitter Facebook: https: //www.facebook.com/MelissaYiYuanInnes/