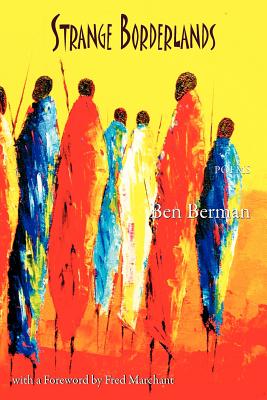 Strange Borderlands
Paperback

* Individual store prices may vary.
Description
Poetry. STRANGE BORDERLANDS, Ben Berman's first full-length collection, counterpoises insights with uncertainties while chronicling the poet's immersion in a new culture. In compelling metrical, free verse and prose poems, Berman provides a vivid narrative of exotic adventures, especially his Peace Corps service in Zimbabwe--the people, the land, and his struggling with the blurred lines of where things end on his return home. This distinctive collection can go from humorous to heartbreaking, and is spellbinding from start to finish--a rare achievement.

Ben Berman's lyric poems set in Zimbabwe dig deep into the casual and the casualty of daily life: the hammer striking the sheep's head, the sustenance that follows; disciplinary beatings that students, giggly and protesting, could count and count on to fade. Unassuming but wise, compassionate yet wildly, unpredictably funny at times, Berman delivers to us escalating hardships that somehow elevated us toward the sacred; the pathetic harvest and sweetness that comes from the least likely of places. This least likely of places is where Berman thrives, calling on closely observed facts to chronicle the perimeters of tenderness and cruelty. I believe every word in this collection. This is an unforgettable debut by a powerful and humble voice.--Dzvinia Orlowsky.
Able Muse Press, 9781927409053, 104pp.
Publication Date: January 31, 2013