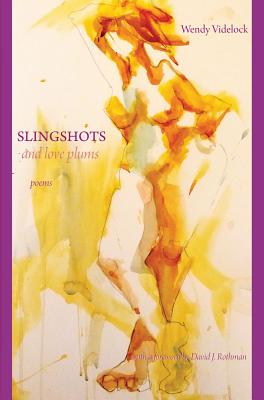 Slingshots and Love Plums
Paperback

* Individual store prices may vary.
Description
Poetry. SLINGSHOTS AND LOVE PLUMS, Wendy Videlock's third full- length collection, sometimes evokes the lightheartedness of THE DARK GNU AND OTHER POEMS previous to it, sometimes enchants with the frolics and insights of her NEVERTHELESS debut. It especially shines with the brilliance of its wit, its spirituality--as in Videlock's fiat lux invocation for her Dear Reader resembling the first, or the last word. Harnessing proverbs, myths, paeans, execrations, riddles, and pithy odes to the natural world and the people around her, Videlock delivers an inspired collection that rollicks, startles and uplifts.

From its title to its last poem, Wendy Videlock's SLINGSHOTS AND LOVE PLUMS offers a delicious variety of treats, from witty send-ups of contemporary mores to somber reflections on mortality, love, and friendship. The pleasures include off-kilter rhymes, elegant turns, earthy revelations, and the skillful mockery of pretentiousness in its various forms.--David Caplan

Videlock arrests because she arrests the complacent drift of sense. She is so good at it that what begins as a taste for her work can quickly turn into a craving--for deliciously cryptic spiritual riddles.--David J. Rothman, from the Foreword

Wendy Videlock's poems in SLINGSHOTS AND LOVE PLUMS sometimes hint at their Colorado origins but are never pinned down by a locality or a life story. They are gleefully universal, taking delight equally in huge abstraction and intimate real-worldliness. Whether enchanting, imploring, or arguing, they always fascinate, concentrating their acrobatics of thought and sound on the knots of the human experience.--Maryann Corbett

Wendy Videlock is one of the few poets I can still read at length and purely for pleasure. Playfully wise, sharp- tongued, and surprising as ever, SLINGSHOTS AND LOVE PLUMS is yet another treasure to be read and reread at your leisure. Thereafter you'll find all your thinking is rhymed--but, don't mind: it's just dust from the master.--Timothy Green.
Able Muse Press, 9781927409527, 120pp.
Publication Date: June 22, 2015