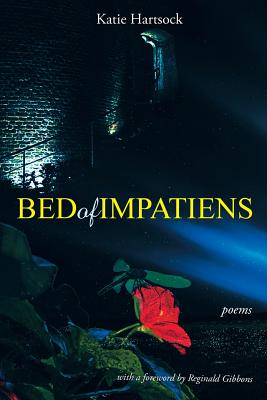 Bed of Impatiens
Paperback

* Individual store prices may vary.
Description
Poetry. Katie Hartsock's BED OF IMPATIENS is astir in myths and myth-making in the backdrop of the grit, waters, scenes and atmospheres of the Midwest. While its tributes to Saint Augustine's Confessions are by turns meditative and daring, its travelogue of Hotels, Motels, and Extended Stays is quirky, irreverent and, yes, delightful. In BED OF IMPATIENS you can feel the bliss / and the burning too. Little wonder it is a finalist in the 2015 Able Muse Book Award.

Praise for BED OF IMPATIENS:

Has American poetry ever produced a fresher, savvier, grittier, more elegant, and drop-dead formally exhilarating sequence than Katie Hartsock's 'Hotels, Motels, and Extended Stays'? If so, I've yet to see it. Hartsock is as deft (and loving) with the vulgarities of truck stop rent-by-the-hou r as with the secret wit of rhyme, or the venerables of Homeric epic: her range and her inventiveness appear to know no limit. And this is just a fraction of what bursts to life in BED OF IMPATIENS. I'm dazzled by the sheer bounty of it.--Linda Gregerson

Like Ren Magritte I want to paint 'This is not a first book' under this first book. It is Lolita all grown up and taking us on a cross-country tour of the motels she stayed in with Humbert. It's St. Augustine as Dennis Rodman, elbowing us out of position underneath God's basket. But it's not a cacophony of surrealism. Ms. Hartsock's classical training--her knowledge and powerful rhythms--is the ground, the spine of this book (pun intended); but the excitement is watching the ancient and the contemporary meet in an explosion of true Form. --James Cummins

Katie Hartsock's BED OF IMPATIENS characteristic vantage includes landscapes derelict and macabre, like the flooded grave in the first poem, and the endless highways of the US, with their extended-stay motels and the ghosts that inhabit them. Hartsock is a sharp and clever reader of the books of nature and of art, yet writes in nobody's shadow.--Mary Kinzie

What truth to find in a world whose rivers 'we cannot swim in and no / cannot drink the water / cannot imagine that, ' a land of 'seedless sweetness' and dank motels that are its monuments to transience? Katie Hartsock's answer in her ambitious first collection, BED OF IMPATIENS, is to wander and 'let the weather in, ' to keep re-calibrating her position in an ever-shifting poetic landscape.--Lee Sharkey

Katie Hartsock is attracted to 'beauty in otherwise unlovely place.' An often amused and goodhearted spirit sets the tone of some of Hartsock's poems, but the long historical and literary view of this poet also encompasses the tragic. Open to encounter, memory, feeling, avid for them, eloquent about them, these poems.--Reginald Gibbons (from the foreword)
Able Muse Press, 9781927409657, 144pp.
Publication Date: November 28, 2016