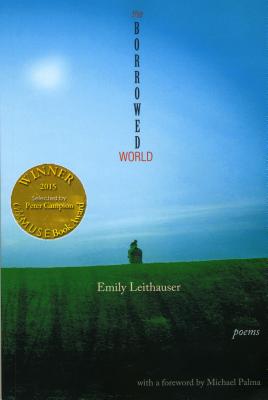 The Borrowed World (Paperback)
Able Muse Press, 9781927409671, 84pp.
Publication Date: July 4, 2016
* Individual store prices may vary.
Description
In The Borrowed World, Emily Leithauser transforms keenly felt experience and bittersweet memories into poems of impressive craftsmanship. She deftly muses on the dichotomies of, among other things, childhood and growing up, the headiness of love gained and the pangs of love lost, the joys of the nuclear family and the trials when it gets broken up. Although a first book, The Borrowed World is the seasoned work of poet of abundant talent coming into her powers and deservedly, the winner of the 2015 Able Muse Book Award.
PRAISE FOR THE BORROWED WORLD:
In The Borrowed World, Emily Leithauser's formal mastery--her consummate knack for writing lines and sentences as crisp and elegant as the Edo prints to which she pays homage--entwines with the sheer immediacy and vulnerability of the poet's voice. Leithauser portrays the inevitability of loss, in romantic and familial relationships, and yet, without ever offering false resolutions or pat conclusions, she manages to make her poems themselves convincing stays against loss. I mean that this book is made to endure. The Borrowed World marks the arrival of a major talent.
--Peter Campion, 2015 Able Muse Book Award judge
Emily Leithauser's first collection, The Borrowed World, is an elegant meditation on inheritance, the vagaries of love and loss, familial relations--with all the devastating implosions within--and our relationship to the past filtered through the flawed lens of memory. These are deeply felt poems and Leithauser has a finely-tuned ear for the lyricism of syntax and the enduring rhythms of traditional forms. The Borrowed World is her stunning debut.
--Natasha Trethewey, 2012-2014 US Poet Laureate
If her intensely accurate perceptions of the physical world and the beautiful forms in which she sets those perceptions were all that Emily Leithauser gave us in these poems, they would be more than enough to satisfy the hungriest poetry reader. But step by perspicuous step, in poem after poem, she enlarges and encompasses, she broadens and deepens and transmutes perception into feeling, feeling into thought, and thought into revelation.
--Vijay Seshadri, winner of the Pulitzer Prize
Love poems, family poems, narrative poems: The Borrowed World is a moving and memorable debut which covers a lot of ground but is always rooted in actualities. The poems are very well-made, too, but their equally great distinction is to be well-felt--subtle in their account of the observing "I," and simultaneously generous and shrewd in their understanding of others. Page by page, they create a series of powerful cameos; taken as a whole, their larger purpose emerges: to register what can be known and (especially) not known about our lives as individuals, and to value what time allows us to enjoy on earth, while admitting the brevity of our stay here.
--Andrew Motion, 1999-2009 UK Poet Laureate
I have read The Borrowed World several times, and each time I find more in it to be delighted and touched by. Emily Leithauser's art waits for you, and I am sure that you will be as pleased and moved by it as I have been.
--Michael Palma (from the foreword)
ABOUT THE AUTHOR:
Emily Leithauser was born in Washington, DC, and grew up in Western Massachusetts. She earned her MFA in poetry at Boston University and her PhD in English at Emory University, where she is a Lecturer in the Creative Writing Program. Her work has appeared in New Ohio Review, Blackbird, Literary Imagination, and Southwest Review, among other journals. She is the recipient of the 2015 Tennessee Williams/New Orleans prize for poetry. She lives in Atlanta with her fiance, Simon, and their two dogs.
The Borrowed World is the winner of the 2015 Able Muse Book Award.