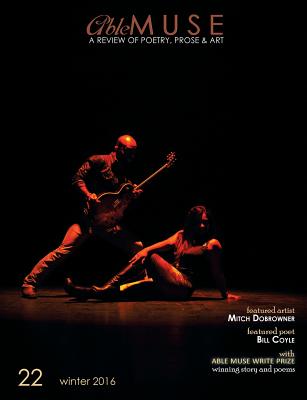 Able Muse, Winter 2016 (No. 22 - Print Edition)
A Review of Poetry, Prose & Art
Paperback

* Individual store prices may vary.
Description
Magazine. Poetry. Fiction. Literary Nonfiction. Art. This is the seminannual ABLE MUSE REVIEW (Print Edition) - Winter 2016 issue, Number 22. This issue continues the tradition of masterfully crafted poetry, fiction, essays, art & photography, and book reviews that have become synonymous with the Able Muse-online and in print. After more than a decade of online publishing excellence, ABLE MUSE print edition maintains the superlative standard of the work presented all these years in the online edition and the ABLE MUSE ANTHOLOGY (Able Muse Press, 2010). . . . ABLE MUSE ] fills an important gap in understanding what is really happening in early twenty-first century American poetry. --Dana Gioia. CONTENTS: WITH THE 2016 ABLE MUSE WRITE PRIZE FOR POETRY & FICTION - Includes the winning story and poems from the contest winners and finalists. EDITORIAL - Alexander Pepple. FEATURED ARTIST - Mitch Dobrowner; (Interviewed by Sharon Passmore). FEATURED POET - Bill Coyle; (Interviewed by Ernest Hilbert). FICTION - Erika Warmbrunn, Cameron MacKenzie, Vicky Mlyniec. ESSAYS - Gerry Cambridge. BOOK REVIEWS - Amit Majmudar, Brooke Clark. POETRY - Amit Majmudar, Len Krisak, Scott Ruescher, Timothy Murphy, Cody Walker, Christine de Pizan, H kan Sandell, Anna M. Evans, Feng Zhi, Tony Barnstone, Liz Ahl, Susan McLean, Elise Hempel, Siham Karami, Maryann Corbett, Fran Markover, Colleen Carias, Julie Steiner, Elizabeth Wager, Clare Jones.
Able Muse Press, 9781927409800, 172pp.
Publication Date: December 4, 2016