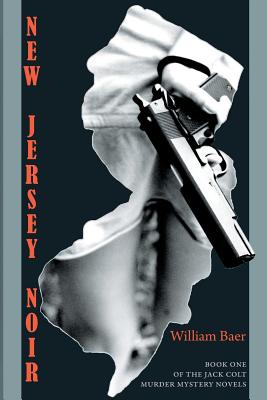 New Jersey Noir
The Jack Colt Murder Mystery Novels, Book One
Paperback

* Individual store prices may vary.
Description
On the bridge over Paterson's Great Falls, a retired state trooper is murdered by a girl in a grammar school uniform. The victim was the beloved uncle of Jack Colt, a private investigator descended from the inventor of the revolver. While investigating his uncle's murder, Colt realizes that it is intertwined with two other cases of his. These involve the family secrets of extremely powerful New Jersey figures, including the governor, a judge, and a mob boss.
In New Jersey Noir, William Baer reinvigorates the detective genre while exploring the Garden State's rich cultural history, glamor, and gore. Baer's novel is fast-paced and utterly gripping, brimming with intrigue and suspense.
PRAISE FOR NEW JERSEY NOIR:
An accomplished poet, playwright, and short-story writer, William Baer has turned to crime, creating a brilliant debut novel, the hard-boiled whodunit New Jersey Noir. If you're looking for classic noir elements, you'll find them here, in spades. And you'll find fine literary elements here, as well: precise prose, perfect pacing, stunning imagery, complex characterization, grand historical and cultural contexts, and a superb sense of place. More than anything else, New Jersey Noir is a loving tribute to the Garden State by a writer who appreciates its grime as much as its glory.
- Hollis Seamon (Jersey girl, born and raised), author of Somebody Up There Hates You
Not since Donna Tartt's The Secret History have I read a novel as mesmerizing, engrossing, and delectable as William Baer's New Jersey Noir-a book so compelling that I was forced to drop everything and commit myself for several hours to experiencing, vicariously, the strange and haunted darkness that is the shadow world of this novel. In prose as fast-moving as a bullet, Baer compels the reader to keep flipping pages more and more rapidly. Baer's writing is taut and gut-wrenching. New Jersey Noir and Baer's talent presage a brilliant career for this wonderfully gifted writer.
- Terri Brown-Davidson, author of Marie, Marie, Hold On Tight
Jack Colt, the private investigator in William Baer's New Jersey Noir, romances the genre to the suspenseful effect that JJ "Jake" Gittes achieves in Roman Polanski's acclaimed Chinatown. In place of technicolor LA, however, Baer evokes a cinematic chiaroscuro New Jersey, specifically Paterson, its history and politics limned over a baseline of Springsteen, doo-wop, and Whitney Houston. In the early pages of this compelling mystery when Colt muses that his fellow detective, Luca Salerno, "was tough all right, but not tough enough to look into the heart of darkness," the allusion to Joseph Conrad alerts us that we are in for a more trenchant narrative than a gumshoe and dames thriller. Baer fulfills by deftly executing the universal themes of incest, adultery, madness, and undisguised evil rising out of the swamps of the Meadowlands and beyond.
- Dennis Must, author of Hush Now, Don't Explain
ABOUT THE AUTHOR:
William Baer, a recent Guggenheim fellow, is the author of twenty-two books including Times Square and Other Stories, Classic American Films, Lu's de Cam es: Selected Sonnets, and The Unfortunates (recipient of the T. S. Eliot Award). A former Fulbright in Portugal, he's also received the Jack Nicholson Screenwriting Award and a Creative Writing Fellowship in fiction from the National Endowment for the Arts. For more information, visit him at williambaer.net.
Able Muse Press, 9781927409824, 266pp.
Publication Date: February 26, 2018