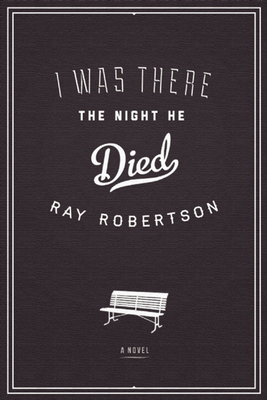 I Was There the Night He Died (Paperback)
Biblioasis, 9781927428696, 223pp.
Publication Date: June 10, 2014
* Individual store prices may vary.
Description
"Ray Robertson is an irrepressible voice, with brass balls, and a heart of gold. I Was There the Night He Died is a hilarious, moving, insightful, and timely piece of modern realism, delightfully void of literary pretension. Here, at last, is a novel that rocks and rolls."--Jonathan Evison, author of The Revised Fundamentals of Caregiving "So," she says. "Who died tonight?" Sam Samson, meet Samantha. Sam's a novelist: his dad has Alzheimer's, his mother died of stroke, his wife was killed seventeen months ago in a car crash. Samantha, eighteen, is a cutter. She lives across the street from Sam's parents' house. Marijuana and loneliness spark an unlikely friendship, which Sam finds hard to navigate, especially as his dad's condition worsens and the money for his care suddenly vanishes. Yet somehow, between a record player and a park bench, through late-night conversations about the deaths of Sam's musical heroes, and ultimately through each other, Sam and Samantha learn to endure the things they fear most. Starring a 40-something writer who stumbles through the small town he thought he'd left behind forever, and a marooned teenager who wishes she were anywhere else, I Was There The Night He Died is a saucy, swaggering look at loss, love, and the redeeming power of music in the twenty-first century. Praise for Ray Robertson,
A Women's National Book Association Great Group Reads Author, 2013
Shortlisted for the Hilary Weston Prize, 2011
and the Trillium Prize, 2008 "Ray Robertson is the Jerry Lee Lewis of North American Letters."
--Chuck Kinder, author of Honeymooners "Both playful and profound, laced with insight from music to history, politics to literature, high to low culture."--National Post "Robertson's art is as character-driven as Mordecai Richler's ... he wants us all to behave better and doesn't care who he angers along the way."--Globe and Mail

About the Author
Ray Robertson is the author of the novels Home Movies, Heroes, Moody Food, Gently Down the Stream, What Happened Later, and David, as well as two collections of non-fiction: Mental Hygiene: Essays on Writers and Writing and, most recently, Why Not? Fifteen Reasons to Live, which was short-listed for the Hilary Weston Prize for nonfiction and long-listed for the Charles Taylor Prize for nonfiction. He lives in Toronto.
or
Not Currently Available for Direct Purchase