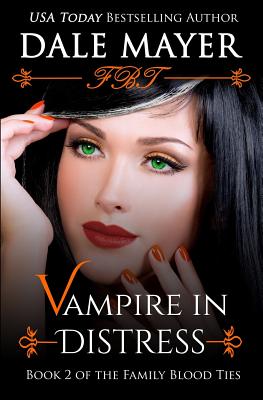 Vampire in Distress (Paperback)
A YA Paranormal Romance (Family Blood Ties #2)
Beverly Dale Mayer, 9781927461099, 254pp.
Publication Date: August 4, 2012
Other Editions of This Title:
Paperback (12/7/2013)
* Individual store prices may vary.
Description
Who you are on the inside is more important that what you are on the outside... But not when you?re fated to be a lab rat for the rest of your life. Sixteen-year-old Tessa, a vampire with weird throwback human genes, is an outsider in both worlds. Always the odd one. Now, imprisoned in a blood farm, she fights to free herself and rejoin her family and friends. Especially one young male vamp. Cody, eighteen and the youngest of the long line of ancient flyer vampires, wants Tessa back at his side where she belongs ? even as he struggles with conflicting emotions about his best friend's kid sister-turned-hottie. Jared, the cute human who?d befriended Tessa, is relieved to be rescued and wants to see the trussed-up, drugged humans in the warehouse taken care of. Only he's freaked that the people who rescued him are vampires...and then he finds out the truth about Tessa... Thankfully, the rescue team comes to take over the warehouse and rescue the victims... or have they?
About the Author
Freelance writer Dale Mayer lives in the beautiful Okanagan valley in British Columbia, Canada. She's multi-pubbed in nonfiction and is currently writing The Essential Series including The Career Essential Series(The Resume, The Cover Letter, The Interview), Lifestyle Essentials (Ergonomics for today's world, Raising the dyslexic child, etc.), and the Gardening Essential Series, (Beginning with Bulbs, Urban Farming, Gardening for Seeds, etc.). Stay tuned as she adds to these and several other proposed series. For the last decade, she's written on all of these topics either under her own name or as a ghostwriter. As a researcher and technical writer, Dale has a wealth of knowledge she can't wait to share! However, fiction is her passion. Here, she writes taut psychological suspense with romance and paranormal elements. She has recently branched out into writing both mystery and urban fantasy books for young adult with the occasional vampire book thrown in just for fun.