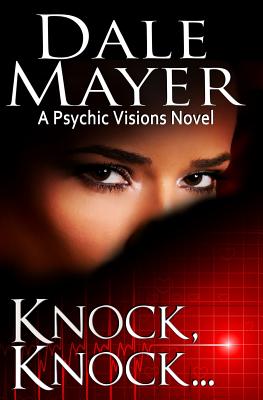 Knock, knock... (Paperback)
A Psychic Visions Novel
Beverly Dale Mayer, 9781927461716, 322pp.
Publication Date: August 5, 2013
Other Editions of This Title:
Paperback (12/7/2013)
Paperback (9/1/2019)
MP3 CD (5/24/2016)
* Individual store prices may vary.
Description
There's no best-by date for revenge. Wealthy and beautiful Shay Lassiter runs a prestigious foundation, but her connections and resources were worthless when her fianc tried to murder her. Now, she's guarding her heart and using her knack for reading people's intentions - both good and evil - to guide her. But when the foundation's clients start dying, she must turn to the new man in her life...one who's giving her mixed signals. Computer specialist and ex-cop Roman Chandler has a secret. It involves Shay and could ruin the fragile relationship he's building with her. Though he can't tell her the truth, he needs to convince her to trust him. He fears that whoever is behind this is about to turn his vengeance on Shay... And vengeance can be deadly.
About the Author
BIO Dale Mayer is a prolific multi-published writer. She's best known for her Psychic Vision Series. Besides her romantic suspense/thrillers, Dale also writes paranormal romance and crossover young adult books in different genres. To go with her fiction, she writes nonfiction in many different fields with books available on resume writing, companion gardening and the US mortgage system. She has recently published her Career Essentials Series. All her books are available in print and digital format. To find out more about Dale and her books, visit her at http: //www.dalemayer.com. Or connect with her online with Twitter at www.twitter.com/dalemayer and on Facebook at www.facebook.com/dalemayer.author Books by Dale Mayer Psychic Vision Series Tuesday's Child Hide'n Go Seek Maddy's Floor Garden of Sorrow Knock, knock... Single Title Romantic Suspense/thrillers Touched by Death - out now! Haunted by Death - (Fall 2013) Novellas It's a Dog's Life- romantic comedy Bound and Determined Unbound - out now Undone - Fall 2013 Young Adult Books In Cassie's Corner Gem Stone Mystery Series- out now! Dangerous Designs - Book I Deadly Designs - Book 2 - out now! Deceptive Designs - summer 2012 Vampire in Denial - Book I of Blood Ties Vampire in Distress - Book 2! Vampire in Design - out now! Vampire InDecision - coming soon! Non-Fiction Books Career Essentials: The Resume Career Essentials: The Cover Letter Career Essentials: The Interview Career Essentials: 3 in 1