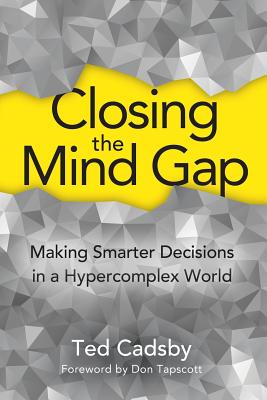 Closing the Mind Gap
Making Smarter Decisions in a Hypercomplex World
Paperback

* Individual store prices may vary.
Description
We have always struggled, as human beings. But our struggle today is exacerbated by a gap between the increasingly complicated world we have created and the default ways we think about it. Twenty-first-century challenges are qualitatively different from the ones that generations of our ancestors faced, yet our thinking has not evolved to keep pace. We need to catch up. To make smarter decisions -- as governments, organizations, families and individuals -- we need more sophisticated mental strategies for interpreting and responding to today's complexity.
Best-selling author and business leader Ted Cadsby explores the insights of cognitive psychology, anthropology, biology, neuroscience, physics and philosophy to reveal the gap between how we typically tackle complex problems and what complexity actually requires of us. In an accessible and engaging style, he outlines ways to close the gap -- the strategic mental shifts that increase decision-making effectiveness. The bottom line? We need greater complexity in our thinking to match the increasing complexity in our world, and Cadsby shows us how.
EDITORIAL REVIEWS
..". Cadsby has done us all a favour with this lucid tour of humanity's approach to thinking through the complexity of our world ... a helpful guide in how to think about our thinking." --ROGER MARTIN, Academic Director of the Martin Prosperity Institute and former Dean of the Rotman School of Management, University of Toronto, and author of "Playing to Win"
"Brimming with insight ... a book of ambitious scope, explaining why we so often make poor decisions -- and how to do better. Professionals in all fields will find it highly valuable." --PHIL ROSENZWEIG, PhD, Professor of Strategy and International Business, IMD, and author of "Left Brain, Right Stuff"
..". draws masterfully on a wide range of scientific findings ... a remarkable wake-up call ...." --ROBIN M. HOGARTH, PhD, Emeritus Professor of Economics and Business, Universitat Pompeu Fabra, and author of "Educating Intuition"
"William James said we are only half awake. Ted Cadsby shows there is a lot of scientific truth wrapped inside that metaphorical truth." --PHILIP E. TETLOCK, PhD, Annenberg University Professor, University of Pennsylvania Psychology Department and Wharton School of Business, and author of "Expert Political Judgment"
"A courageous synthesis of cognitive psychology, complexity theory and systems theory. Cadsby provides readers with practical implications for improving their decision-making process." --GARY KLEIN, PhD, Senior Scientist at MacroCognition LLC and author of "Seeing What Others Don't"
..". distills the latest research in complexity theory and cognitive science, and shows how we can debug our 'mental software' to think and act more effectively." --DAVID ORRELL, PhD, mathematician and author of numerous books, including "Truth or Beauty and Economyths.
BPS Books, 9781927483787, 402pp.
Publication Date: March 24, 2014
About the Author
Ted Cadsby, MBA, CFA, ICD.D, is a corporate director, consultant, best-selling author and researcher, writer and speaker on complexity and decision making. As the former executive vice president of Retail Distribution at the Canadian Imperial Bank of Commerce, he led 18,000 employees in banking and wealth management services. He also served as President and CEO of CIBC Securities Inc., Chairman of CIBC Trust Corp. and Chairman of CIBC Private Investment Counsel Inc. www.tedcadsby.com