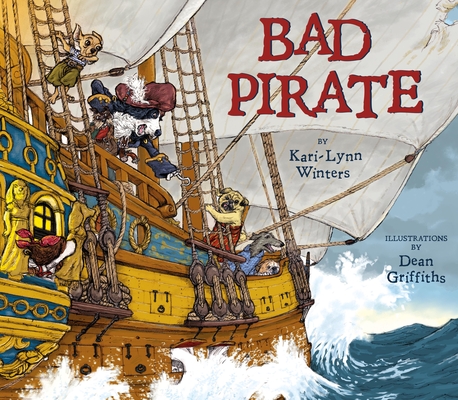 Bad Pirate (Hardcover)
Pajama Press, 9781927485712, 32pp.
Publication Date: September 18, 2015
* Individual store prices may vary.
Description
Her pirate-captain father reminds her to be bold and saucy and selfish, but Augusta can't help being shy, polite, and helpful; in short, a bad pirate. But when a terrible storm puts the crew in danger, Augusta is bold enough to be true to herself and show that a good pirate can be selfless, too.
Barnacle Garrick is bold and saucy and selfish. And for a pirate captain, that's good, very good. And his crew are all scurvy sea dogs--selfish down to the last fleabitten scuttle-butt. And that's good too. But Augusta Garrick is shy, polite, and selfless. For a pirate, that's bad, very bad. Despite her father's horrible example, the sea pup can't stop helping out. It just might take one terrible storm, a ripped sail, a missing peg leg and a panicked crew before Augusta can prove that being selfless is a bold and saucy move after all. And that's good, very good indeed.
A rollicking tale peppered with pirate talk, Kari-Lynn Winters' Bad Pirate is a story about being true to yourself, even if it means you must go against the pack. Dean Griffiths' artwork glows with rich colors, fine detail and spot-on doggie characters. A scurvy delight. For landlubbers, the endpaper design includes a glossary of pirate and sailing terms.