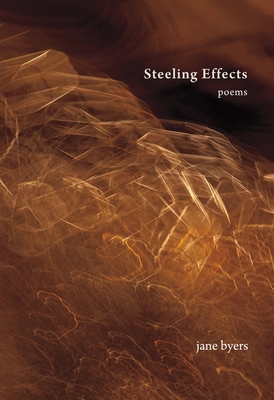 Steeling Effects
Paperback

* Individual store prices may vary.
Description
Why do some of us learn to bend? Others break? How do we move from shame to being "enough"? How do we bounce back stronger after adversity and then embrace our own humanity with its flawed beauty? In her first full collection of poetry, Jane Byers explores her personal experience with resilience, beginning with her own difficult birth, which she describes as "inoculation against despair." As a young adult, the writer moves from complicity and its illusion of power to building a pliantself. Byers turns an unflinching eye to parenthood, as the mother of adopted twins, and examines the workplace through the eyes of a female safety specialist working alongside firefighters, transportation crews and heavy equipment purchasers. The author draws on the steeling effects of being queer to imbue her children and injured workers with suppleness. A late fall swim in an alpine lake; a woman in the twilight of life, risking delight. "Red thermometers of grass shed their glistening mercury" in a "fever of gratitude"; to tumble from the divine is to be alive in the pungent beauty that the so-called mundane has to offer. STEELING EFFECTS asks whether what doesn't kill you makes you stronger and lives its way into the pliant beauty that gratitude affords.
Praise For Steeling Effects…
"Throughout the book Byers uses just the right word, line break and space to let us follow her narrative. She is generous to those who people her poems: her grandmother as an audacious young woman; women and men struggling with dangerous work; immigration. And she is generous with herself: how that first conscious breath seems to have set her on a creative path–and opened the door to steeling effects. I'm sure I'm not the only one waiting for Byers's second collection." — Barbara Herringer, The Coastal Spectator
"With graceful intelligence and deft play of language Jane Byers brings her entire life journey into view, from her own precarious birth through to witnessing the effects of injuries and indignities, to becoming a mother of adopted twins. Her poems are works of wonder at the resilience of the human spirit, at the fragility of recovery from trauma, at the steps of growing into love.  This is a collection that takes breath as its starting metaphor and breathes the fire of excitement and admiration into the reader." — Maureen Hynes, author of Harm's Way (Brick Books) and Rough Skin (Wolsak and Wynn), winner of the League of Canadian Poets' 1995 Gerald Lampert Award
"Jane Byers' first collection of poetry is brave, blunt, breathtakingly rogue. Her language is precise and compelling, as are her poems, compelling as life, birth, fear, justice and strength. She is a fine poet, a poet who teaches us how to 'breathe our way back.'" — Arleen Paré, author of Paper Trail (NeWest Press) and Leaving Now (Caitlin Press)
"Jane Byers' poems are an incendiary experience of language, inflaming mind, heart, and embodiment. It's a stunning debut collection of poetry, deeply queer, beautiful, and expansive." — Shannon Webb-Campbell, 2014 Critic-in-Residence, Canadian Women in the Literary Arts
Caitlin Press Inc., 9781927575444, 88pp.
Publication Date: March 7, 2014
About the Author
Jane Byers lives with her wife and two children in Nelson, British Columbia. She writes about human resilience in the context of raising children, lesbian and gay issues, sexism, local geography and health and safety in the workplace. She spent many years working for the City of Toronto in corporate health and safety and now works at WorkSafeBC where she continues to facilitate resilience in injured workers. She has had poems, essays and short fiction published in a variety of books and literary magazines in Canada, the US, and the UK, including GRAIN, RATTLE, DESCANT, THE ANTIGONISH REVIEW, THE CANADIAN JOURNAL OF HOCKEY LITERATURE and OUR TIMES. She is a three-time winner of the Nelson and District Poetry Competition.