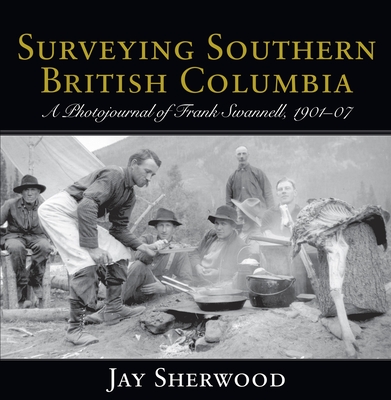 Surveying Southern British Columbia
A Photojournal of Frank Swannell, 1901-07
Paperback

* Individual store prices may vary.
Description
SURVEYING SOUTHERN BRITISH COLUMBIA, Jay Sherwood's fourth and final book about prominent BC surveyor Frank Swannell, covers the years from 1901 to 1907, before Swannell began surveying for the BC government. Gore & McGregor, one of the leading surveying companies in the province, hired Swannell to work on projects throughout southern British Columbia from the Rocky Mountains to the west coast of Vancouver Island, and from the international boundary as far north as Quesnel in the Cariboo and Bella Coola on the BC coast. Swannell's work had a significant impact on events that shaped our province's history including the search for oil, the Pacific cable survey, the early timber licence surveys for the pulp and paper mill at Ocean Falls and the controversial CPR land grants through southern BC. Yet Swannell was more than a surveyor - he was an accomplished and talented photographer, documenting the development of our province through his compass, his measurements and his lens.SURVEYING SOUTHERN BRITISH COLUMBIA contains 150 stunning photographs that portray human settlement and untamed wilderness in what were the most remote areas of our young province. Sherwood also includes Swannell's courtship letters to Ada Driver, which provide delightful details about the life of a surveyor in the field. Sherwood's meticulous research portrays the life and career of a young Swannell as he perfects his skills and profits from his mistakes, while helping to shape BC as we know it today. SURVEYING SOUTHERN BRITISH COLUMBIA makes a significant contribution to the history of our province and is a well-crafted conclusion to this important series.
Praise For Surveying Southern British Columbia: A Photojournal of Frank Swannell, 1901-07…
"Swannell's photographs, letters, and journal entries—complied by Sherwood with crucial context and attention to detail—are a vivid look into British Columbia's coming of age as a resource frontier. Swannell's seemingly ubiquitous involvement in political and economic events during the turn of 20th century makes Surveying Southern British Columbia an essential book for any BC History collection." — Kelly Black, BC Studies
"Frank Swannell was a gifted Land Surveyor who did excellent work and kept a meticulous record of it. He also had an eye for photography and knew when to set up his camera to get the right shot. Author and historian Jay Sherwood has the gift of being able to weave a story out of Swannell's field notes and photographs and letters home to his fiancé, and later his wife, Ada Driver. This is Sherwood's fourth book on Swannell and is actually a prequel to his first three books. Most of Swannell's letter to Ada are extant and Sherwood uses them to create the story of Swannell's early years as an article pupil and then a Land Surveyor. There are photographs, mostly taken by Swannell, on nearly every page and they, along with various maps, allow the reader to experience the life and times in the first decade of the 1900's. This is another excellent book by Sherwood and should be on the book shelf of anyone interested in the first hand experiences of those early Land Surveyors just over 100 years ago." — Robert Allen, BCLS, CLS, Life Member and Past President, Association of British Columbia Land Surveyors
Caitlin Press Inc., 9781927575512, 160pp.
Publication Date: September 8, 2014
About the Author
Jay Sherwood is a historian and retired teacher-librarian who worked in surveying for several years. He is the author of five BC history books, including SURVEYING NORTHERN BRITISH COLUMBIA (Caitlin Press, 2004), SURVEYING CENTRAL BRITISH COLUMBIA (Royal British Columbia Museum, 2007), RETURN TO NORTHERN BRITISH COLUMBIA (Royal British Columbia Museum, 2010), FURROWS IN THE SKY: THE ADVENTURES OF GERRY ANDREWS (Royal British Columbia Museum, 2012) and IN THE SHADOW OF THE GREAT WAR (Royal British Columbia Museum, 2013). Three have won awards, including two from the series about Frank Swannell. Jay was also the editor for BANNOCK AND BEANS (Royal British Columbian Museum, 2009), Bob White's account of the Bedaux Expedition. He enjoys hiking and camping and has visited many of the locations where Frank Swannell surveyed during his career.
or
Not Currently Available for Direct Purchase