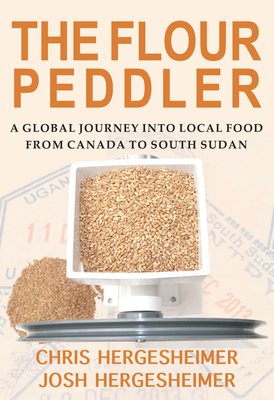 The Flour Peddler (Paperback)
A Global Journey into Local Food
Caitlin Press Inc., 9781927575864, 256pp.
Publication Date: March 1, 2015
* Individual store prices may vary.
Description
In 2008, a small-scale flour miller from British Columbia's Sunshine Coast created a handmade bike mill to attract a dedicated farmers' market following. Chris Hergesheimer wanted to challenge the belief that there is only one way - the big way - to grow, process and market grain and flour. For Chris and his family, it wasn't about profit, but connecting a community to its food producers for better health, lower impact on the environment, and the kind of flapjacks only fresh-milled flour can make. But Chris Hergesheimer and his brother Josh could not have predicted that this unique contraption would take them on the journey of their lives. Committed to their cause, and believing in its value despite the dismal economic outlook, the Hergesheimer brothers follow their passion for local on a transcontinental journey. From the rainforests of Roberts Creek, BC, to the bustling streets of Kampala, Uganda, and finally onwards to the village of Panlang in the northwestern corner of South Sudan, THE FLOUR PEDDLER is the story of two community-minded entrepreneurs as they set out to build and deliver their bicycle-powered grain mill to a rural women's cooperative in a tiny village. Chris and Josh come face to face with the realities of life in South Sudan when war breaks out and their microcapitalism mission becomes a race to leave the country before violence makes escape impossible. Part grain-chain analysis, part bare-all exposé, THE FLOUR PEDDLER is a unique and gripping story that explores the trends and issues of local food systems as well as the challenges and power of alternative food movements. For the Hergesheimer brothers, it is also a journey of surprising adventure, from broken-down market vans, fraudulent bus tickets and hungry bears to a Russian helicopter, an attempted coup and a heart-wrenching homecoming.
About the Author
Christopher Hergesheimer is a research, policy and project management consultant on issues surrounding food and farming. Chris has a master of arts in sociology from Simon Fraser University and is a PhD candidate in the department of Land and Food Systems at the University of British Columbia. THE FLOUR PEDDLER draws from research he conducted for the BC Association of Farmers' Markets, FarmFolk CityFolk and the University of Northern British Columbia. Chris is also the director of research education at the Boucher Institute of Naturopathic Medicine, where he co-teaches a college-level course on research methodology. He lives in Roberts Creek, BC. Joshua Hergesheimer is a writer and photographer who works with media outlets, non-profit organizations and individuals who want their stories told. Josh has a master of arts in human rights from the University of Sussex and a master of science in nationalism and ethnicity from the London School of Economics. He trained as a journalist at Langara College and attended crisis-zone training at Columbia University. His writing and photography have appeared in the Vancouver Sun, the Vancouver Observer, This Magazine, Al-Jazeera International, the Globe & Mail and the Georgia Straight. Since travelling to South Sudan, he was commissioned by the Overseas Press Club of America to write a guide for journalists visiting South Sudan. He co-teaches research methodology at the Boucher Institute with Chris. Josh lives in Vancouver.
Praise For The Flour Peddler: A Global Journey into Local Food…
"Food writing meets true adventure in this book that sees the globe with local eyes. From Canada's west coast to the heart of South Sudan, the Flour Peddler reveals that local eating isn't just about food–it's about the way we relate to the people and places in our lives." — J.B. MacKinnon, author, The 100-Mile Diet and The Once and Future World
"With their pedal-powered mills, the Hergesheimers show us that a little ingenuity has a big impact. This book shows they can peddle a great story too. Despite the roadblocks on their journey, their experience suggests a positive future for those who go against the grain of conventional capitalism." — Robin Esrock, author, The Great Canadian Bucket List