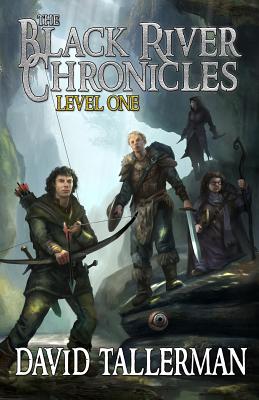 The Black River Chronicles (Paperback)
Level One
Digital Fantasy Fiction, an Imprint of Digita, 9781927598511, 296pp.
Publication Date: September 28, 2016
Other Editions of This Title:
Paperback, Large Print (10/12/2017)
Paperback (6/22/2019)
Paperback (11/28/2017)
* Individual store prices may vary.
Description
You know these characters: The ranger, the fighter, the wizard, the rogue. But haven't you ever wondered how they learned to be those things?
Three months into his studies at the Black River Academy of Swordcraft and Spellcraft, Durren Flintrand is shocked by the news that from now on he'll be assigned to a party, and that his only hope of progressing beyond the lowly rank of level one is to succeed with his new companions. However, Durren has a secret that may make that impossible, and his three partners have problems of their own. Wizard Areinelimus is terrified of her own magic. Rogue Tia has no patience at all with others. And warrior Hule is just an idiot. In fact, when a disembodied, floating eyeball is your most competent party member, you know you have serious problems.
To stand a chance of succeeding, they need to work together, and that means learning to tolerate each other, while surviving a world of angry rat people, murderous sorcerers and homicidal unicorns. But even if they can somehow find a way to get along, dark and ancient forces are stirring, ones no level one students should ever have to confront...
If you enjoy Dungeons and Dragons and/or sword and sorcery stories, you should be reading The Black River Chronicles... Great fun and a joyous celebration of the RPGs we all know and love. Pop Verse

★★★★ A keen mixture of the familiar and the innovative. With unicorns, dwarves, dangerous rebellions and dozens of other fantastical beasts and moments, this book is a thrilling ride that leaves readers with a number of important lessons. Readers should be excited to see where this series goes, and what those "higher levels" hold for this unique band of adventurers. Self-Publishing Review

...this book is a lot of fun. Surprisingly realistic fun. Enjoyable, immersive fun. "I want more" fun. And there's a promise that this fun will be followed by more. At the same time, all on its own, this book tells a great tale that comes to a satisfying ending. Ed Greenwood - The Archmage

...superb pacing, competent writing, well-described action, fun situations, and appealing characters. The first in a series, the book remains a pleasant confection. Well-crafted fantasy fiction about a team of young trainees tackling dangerous missions." Kirkus Reviews
The Black River Chronicles is a new fantasy series from David Tallerman and Michael Wills. Set in an academy for young adventurers in training, the Black River Academy, our new dungeon crawlers set out to learn the ropes. Follow them in their adventures and misadventures and see if they save the day, or flunk out of school before earning their next level.
Grab your copy today Free with Kindle Unlimited.
Thank you for your interest in our book. We hope you enjoy reading it as much as we have enjoyed presenting it. - Digital Fiction
Website: DigitalFictionPub.com
Facebook: Facebook.com/digitalfictionpub
Twitter: @DigitalFicPub
Tags:
dungeon rpg game d&d fantasy elf sword quest genre
humor potter action adventure playing role sorcery
dragon magic harry litrpg epic wizard shapeshifter
book ebook e-book novel paperback story about best
gift in 2019 prime seller on series all author new
release and unlimited wish list like is fan or top
year selling to young read adult at good club free
About the Author
David Tallerman is the author of the Tor.com novella Patchwerk and the award winning fantasy novels Giant Thief, Crown Thief, and Prince Thief, as well as the graphic novel Endangered Weapon B: Mechanimal Science. David's short science fiction, fantasy and horror has appeared in over seventy markets, including Clarkesworld, Lightspeed, Nightmare and Beneath Ceaseless Skies, and fourteen of his stories were recently brought together in the collection The Sign in the Moonlight and Other Stories. He can be found online at http: //davidtallerman.co.uk/ and http: //davidtallerman.blogspot.com/ Michael Wills is a husband, father, part-time geek, and full-time lawyer. He owns and operates Digital Fiction Publishing Corp. in his spare time. The Black River Chronicles, as conceived by Michael, is his first full length book; which was made a reality only through the effort of his co-conspirator, David Tallerman.