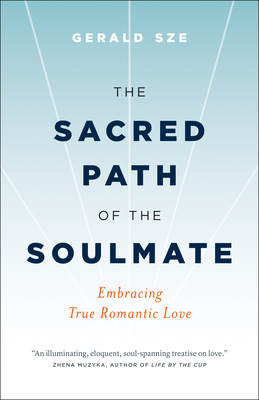 The Sacred Path of the Soulmate
Embracing True Romantic Love
Paperback

* Individual store prices may vary.
Description
Romantic relationships can bring both great joy and deep anguish. At any moment, millions of men and women are seeking relationships, while millions more are ending them. Why are we so fervently drawn to romantic relationships if it's so hard to find lasting fulfillment in them? The answer, according to existential spiritual philosopher Gerald Sze, is that we misunderstand the spiritual purpose of True Romantic Love, and so we create far less satisfying experiences in our relationships than what's possible. As Sze explains in The Sacred Path of the Soulmate: Embracing the Spiritual Purpose of True Romantic Love, romantic relationships are our primary vehicle for spiritual growth. We should not think of a soulmate, Sze says, as someone with whom we are supposed to experience nonstop bliss, but as a beloved mate with whom we reconnect again and again over many lifetimes to learn, grow and evolve spiritually. Only by understanding the spiritual purpose of True Romantic Love can we follow the sacred path of the soulmate toward enlightenment. The Sacred Path of the Soulmate draws on Buddhist principles and Western philosophy, while also incorporating Sze's findings from more than a decade of interviews with ordinary women and men about their romantic relationships. Frank and often funny, the book uses well known scenes from popular Hollywood romance movies to illustrate its messages, bolstered by wide ranging philosophical inquiry. The Sacred Path of the Soulmate is not a how-to book, but a "why-to" book, inviting readers on a courageous journey of healing, growth and spiritual evolution through True Romantic Love. On this journey, readers will learn: The spiritual reason behind "love at first sight"; How True Romantic Love differs from "phantom romantic love"; Fresh insights that can transform the pain of heartbreak into humanistic growth and self-awareness; And how to transform limited, conditional relationships into True Romantic Love through humility, courage and compassion. The Sacred Path of the Soulmate will appeal to readers interested in the New Age and new thought movements, those who view spirituality beyond a religious framework, and those who wish to cultivate more meaning and opportunities for growth in their most intimate love relationships.
Lifetree, 9781928055266, 240pp.
Publication Date: May 16, 2017
About the Author
Gerald Sze is an award-winning spirituality author and existential philosopher who has studied and conducted research in the fields of spirituality and existential philosophy for nearly 30 years. His explorations have included Eastern and Western philosophy, divination, and comparative religion, as well as an immersion in Buddhism. The author's first book, Changing Fate Through Reincarnation (self-published, Two Harbors Press, 2012) won in the Spiritual category at the 2013 London Book Festival and in the Philosophy category of the 2014 Beverly Hills Book Awards. In 1987, Sze began studying physiognomy and palmistry with a master of Chinese divination in Hong Kong. After returning to Canada, he continued studying and conducting research on the topic of fate, as well as the nature of romantic love, relationships and the spiritual purpose of suffering. His findings are the basis for The Sacred Path of the Soulmate. Sze lives in Vancouver.