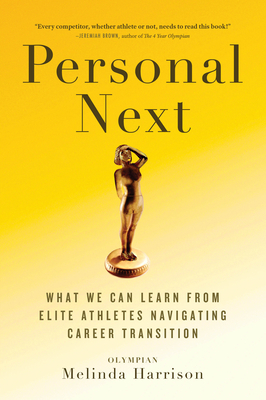 Personal Next
What We Can Learn from Elite Athletes Navigating Career Transition
Paperback

* Individual store prices may vary.
Description
An Olympian shares advice for high-achievers navigating career and life transitions.
After achieving a major accomplishment or realizing a lifelong dream, many high-performing individuals struggle to open a new chapter in life with the same confidence and enthusiasm that fueled their previous successes.
In Personal Next, former Olympic athlete Melinda Harrison examines the difficulties people may face after reaching what seemed to be the height of their careers. Through interviews with more than 100 elite athletes and other high-achievers who navigated a major life transition, Harrison distills nine key PRACTICES that support a successful pivot to a new arena.
Harrison describes the arc of transition common to all high-performers, including the ascent to peak achievement, the messy middle of change, and the move toward new goals, challenges, and rewards. Woven throughout the book are stories from elite athletes and high achievers, including Harrison's own.
Life after the pinnacle of success doesn't have to be all downhill. If you are struggling to find your feet after coming off a personal best, reading this book will help you to prepare for success in your personal next.
Praise For Personal Next: What We Can Learn from Elite Athletes Navigating Career Transition…
"Every competitor, whether athlete or not, needs to read this book!"
—Jeremiah Brown, Olympic silver medalist and author of The 4 Year Olympian
"Melinda does a masterful job of describing the stages of all high performers: the ascent to a personal best, the struggles of the messy middle, and then the discovery of a personal next. The journey she takes you on will help you take ownership of your next steps."
—Simon Keith, soccer player, author of Heart for the Game, and the first athlete to play professional sports after a heart transplant
"One of the most effective forms of support is peer to peer. Melinda has provided this support in Personal Next. Well done for providing this great resource for our community."
—Gearoid Towey, three-time Olympian and founder of crossingthelinesport.com
"Harrison turns her keen eye on investigating her fellow athletes to uncover what we can learn about growing—and thriving—any time we face a lifealtering transition. Using inspiring stories, powerful frameworks, and the seamless integration of the latest science, she weaves a powerful case for why change is the greatest opportunity of all."
—Dr. Sarah McKay, PhD, director of The Neuroscience Academy and author of The Women's Brain Book
Lifetree, 9781928055587, 216pp.
Publication Date: April 21, 2020
About the Author
Melinda Harrison was a multi-year All American swimmer and captain of the University of Michigan swim team. As Melinda Copp, she competed for Canada in the 1984 Olympic Games at Los Angeles. She is a certified professional coach who helps individuals move from one level of success to the next.