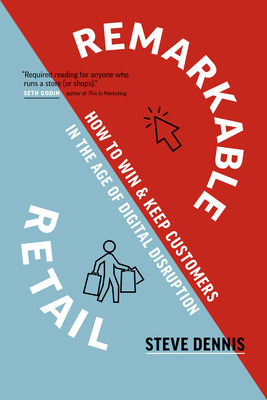 Remarkable Retail (Hardcover)
How to Win & Keep Customers in the Age of Digital Disruption
Lifetree Media, 9781928055716, 240pp.
Publication Date: April 14, 2020
* Individual store prices may vary.
Description
Physical retail isn't dead--but boring retail is Remarkable Retail equips the savvy retailer with eight essential strategies to deliver a powerful customer experience.
Despite the clickbait headlines that warn of a "retail apocalypse," many brick and mortar retail brands are enjoying strong growth and profits. Others, however, are destined to become obsolete because they offer merely convenience, decent prices, or an okay shopping experience. In Remarkable Retail, industry thought leader Steve Dennis argues that retailers can no longer count on scarcity to drive sales, or settle for providing indifferent in-store experiences, because customers live online and have a wealth of choice and information at their fingertips.
In the book, Dennis unpacks the trends that are squeezing traditional stores and presents eight essential strategies for visionary retail leaders who are prepared to reimagine the customer experience in the age of digital disruption. A remarkable retailer is digitally enabled, human centered, harmonized, mobile, personal, connected, memorable, and radical.
In most retail categories, digital channels are now central to the consumer's journey, but that doesn't mean people aren't also shopping in stores. Packed with illuminating case studies from some of modern retail's biggest success stories, Remarkable Retail shows retailers and those in adjunct industries such as manufacturing, marketing, and tech, what it takes to create big buzz around the in-store experience.
In an age where consumers have short attention spans and myriad options, Remarkable Retail is your crucial roadmap to creating a powerful retail experience that keeps your customers coming back for more.
About the Author
Steve Dennis is a strategic advisor and keynote speaker on retail innovation. As a senior executive at two Fortune 500 retailers, Sears and Neiman Marcus, and as a strategy consultant, Steve has worked with dozens of retail brands. He is a contributor to Forbes magazine, and he is regularly featured on Bloomberg/Business Week, CNBC, CNN, Fortune, USA Today and The Wall Street Journal, among many others.
Praise For Remarkable Retail: How to Win & Keep Customers in the Age of Digital Disruption…
"Required reading for anyone who runs a store (or shops)."
—Seth Godin, author of This Is Marketing
"Remarkable Retail provides great perspective on what is driving today's retail winners and losers. But more importantly, Dennis lays out a roadmap for companies to use to navigate today's rapidly changing environment."
—Steve Sadove, former chair and CEO, Saks Inc.
"Skip that online course at Wharton and just buy this book. A smart, articulate, battle-scarred retail veteran pours a graduate course on the past, present, and future of consumption into one very readable summary."
—Paco Underhill, CEO, Envirosell Inc., and author of Why We Buy, Call of the Mall, and What Women Want
"Remarkable Retail conveys a deep understanding of the challenges facing the US retail middle ground while so many rivals—and not just Amazon—have thrived. Steve Dennis convincingly lays out how retailers can find a way back through a 'journey to remarkable.' A definite must-read for the retail enthusiast."
—Deborah Weinswig, CEO and founder, Coresight Research