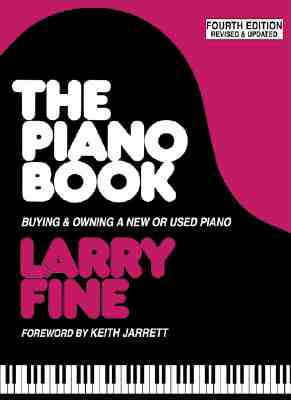 The Piano Book (Paperback)
Buying & Owning a New or Used Piano
Brookside Press, 9781929145010, 244pp.
Publication Date: November 1, 2000
* Individual store prices may vary.
Description
This bible of the piano marketplace is indispensable to buyers and owners of pianos, amateur and professional players alike. Hundreds of thousands of pianos are bought and sold each year, yet most people buy a piano with only the vaguest idea of what to look for as they make this major purchase. The Piano Book evaluates and compares every brand and style of piano sold in the United States. There is information on piano moving and storage, inspecting individual new and used pianos, the special market for Steinways, and sales gimmicks to watch out for. An annual supplement, sold separately, lists current prices for more than 2,500 new piano models.

About the Author
Larry Fine is a registered piano technician member of the Piano Technicians Guild and has been involved in the field of piano technology for over 20 years. He lives in Boston, Massachusetts.
Praise For The Piano Book: Buying & Owning a New or Used Piano…
"If there is to be a piano in your future, the single indispensable reference is The Piano Book by Larry Fine."  —Noah Adams, host of NPR's All Things Considered
"
The Piano Book
is a must-have resource, no matter what kind of music you play, or what kind of piano you own or intend to buy."  —Robert Moog, inventor of the Moog Synthesizer
"It is a book that I never thought I would see in print and a book that will be of great service to the piano world."  —Robert Silverman, former editor of
The Piano Quarterly
"Clearly and directly written. . . . An excellent source book."  
—Library Journal