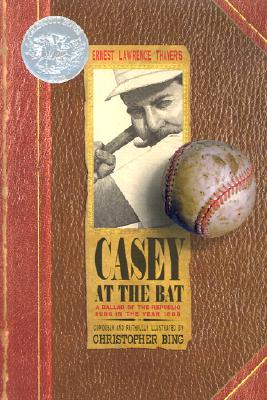 Casey at the Bat
A Ballad of the Republic Sung in the Year 1888
Hardcover

* Individual store prices may vary.
Description
"And somewhere men are laughing, and somewhere children shout; But there is no joy in Mudville-mighty Casey has struck out." Those lines have echoed through the decades, the final stanza of a poem published pseudonymously in the June 3, 1888, issue of the San Francisco Examiner. Its author would rather have seen it forgotten. Instead, Ernest Thayer's poem has taken a well-deserved place as an enduring icon of Americana. Christopher Bing's magnificent version of this immortal ballad of the flailing 19th-century baseball star is rendered as though it had been newly discovered in a hundred-year-old scrapbook. Bing seamlessly weaves real and trompe l'oeil reproductions of artifacts-period baseball cards, tickets, advertisements, and a host of other memorabilia into the narrative to present a rich and multifaceted panorama of a bygone era. A book to be pored over by children, treasured by aficionados of the sport-and given as a gift to all ages: a tragi-comic celebration of heroism and of a golden era of sport.
Praise For Casey at the Bat: A Ballad of the Republic Sung in the Year 1888…
PUBLISHERS WEEKLY
Debut children's book illustrator Bing hits a home run with this handsome faux-scrapbook treatment of Thayer's immortal poem. The original verses about baseball start Casey and the ill-fated Mudville nine appeared in the San Francisco Examiner on June 3, 1888, and Bing captures the spirit of the age with pen-and-ink illustrations that look like carefully preserved newspaper clippings, complete with slightly torn and yellowed edges. He uses cross-hatching and careful shading to create the pages of The Mudville Sunday Monitor, which keenly resembles the newspaper engravings of the day. Columns of type (in historically accurate printers' fonts, as and afterword points out) run beneath each illustration to bolster the conceit. Bing also scatters other "scrapbook" items throughout, from game tickets (a bargain at 20 cents) to old-fashioned baseball cards and stereopticon images many of them carefully keyed to the text. Full-color currency, for instance, accompanies "They thought if only Casey could but get a whack at that /We'd put up even money now with Casey at the bat," while an ad for Brown's Bronchial Troches appears with the couplet "Then from 5,000 throats and more there rose a lusty yell;/It rumbled through the valley, it rattled in the dell." Endpapers reveal more items to delight baseball fans and history buffs, from Thayer's newspaper obituary to a fake bookplate wreathed with baseball motifs. Though Casey and the Mudville nine strike out in the end, this exceptionally clever picture book is definitely a winner. All ages.
Chronicle Books, 9781929766000, 32pp.
Publication Date: October 1, 2000
About the Author
Christopher Bing, whose first book, "Casey at the Bat," was named a 2001 Caldecott Honor Book, lives with his wife and three children in Lexington, Massachusetts, in a house directly on the Freedom Trail, the route on which Paul Revere rod