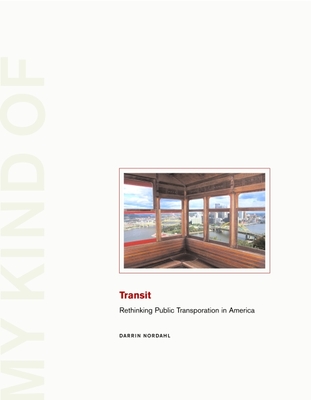 My Kind of Transit (Hardcover)
Rethinking Public Transportation
Island Press, 9781930066885, 176pp.
Publication Date: April 1, 2009
* Individual store prices may vary.
Description
In My Kind of Transit, Darrin Nordahl argues that like life itself, transportation isn't only about the destination, but the journey. Public transit reduces traffic and pollution, yet few of us are willing to get out of our cars and onto subways and buses. But Nordahl demonstrates that when using public transit is an enjoyable experience, tourists and commuters alike willingly hand in their keys.
The trick is creating a system that isn't simply a poor imitation of the automobile, but offers its own pleasures and comforts. While a railway or bus will never achieve the quiet solitude of a personal car, it can provide, much like a well-designed public park, an inviting, communal space.
My Kind of Transit is an animated tour of successful transportation systems, offering smart, commonsense analysis of what makes transit fun. Nordahl draws on examples like the iconic street cars of New Orleans and the picturesque cable cars in San Francisco, illustrating that the best transit systems are uniquely tailored to their individual cities. He also describes universal principles of good transit design. 
 
Nordahl's humanistic treatment will help planners, designers, transportation professionals, and policymakers create transit systems the public actually wants to ride. And it will introduce all readers to delightful ways of getting from point A to point B. 
About the Author
Darrin Nordahl is an award-winning writer on issues of food and city design. He completed his bachelor's degree in landscape architecture at the University of California at Davis and his master's degree in urban design at Cal-Berkeley. He is the author of
Making Transit Fun!
,
My Kind of Transit
and
Public Produce
.
Born in Oakland, California, Darrin grew up in the quirky yet stunningly beautiful cosmopolis known as the Bay Area, but lived for many years in America's Heartland. His work is thus a mélange of "Left Coast" idealism and Midwestern pragmatism, and has generated headlines in newspapers and network news stations throughout North America. Merging his passions for food and cities, Darrin speaks to audiences across the United States and Canada, arguing how thoughtfully designed city spaces can help improve the quality of the environment, our health, and our social connections.

Praise For My Kind of Transit: Rethinking Public Transportation…
"
My Kind of Transit
is the first volume I have come across that comprehensively considers transit in terms of those factors that actually determine whether or not people will choose to ride it. Nordahl's humane, and even humanist, arguments recognize and celebrate how transit, if properly designed, can be elevated in the public esteem from loser cruiser to mode of choice. Please, if your work deals in any way with planning or transportation, do us all a favor and read his book."
— Jeff Speck
"This unique work will inspire scholars and students to research further on this essential and largely untreated topic. It will also pop up on the shelves of those urbanists who ponder wistfully on the loss of great city culture and vital urban social life and imagine the emergence of a more beautiful, more convivial, and more livable urban future."

— Susan Zielinski
or
Not Currently Available for Direct Purchase