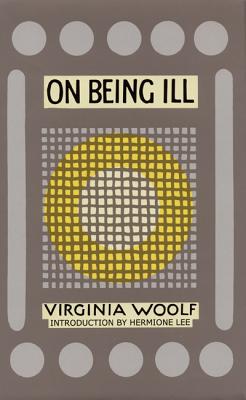 On Being Ill
Hardcover

* Individual store prices may vary.
Other Editions of This Title:
Paperback (11/6/2012)
Description
Virginia Woolf confronts the taboos of illness, then shows how this common experience transforms perception.
Praise For On Being Ill…
"The essay has the virtue of suggesting an origin for [Virginia Woolf's] impassioned, circumnavigatory style: her racing, feverish mind." THE NEW YORK TIMES BOOK REVIEW

"I'd assign my students to read, ten times daily, the first sentence of Virginia Woolf's brilliant and beautiful essay On Being Ill – until they learned to appreciate the full potential, the dazzling glory, and the clarity of the complex sentence…. [D]elicate but powerful… an effecting, resonant recapitulation and illustration of the inadequacy and superfluity of language in our efforts to describe human suffering." Francine Prose, BOOK FORUM

"A most unusual and long-neglected reverie on illness, language and poetry – reprinted by the sterling Paris Press…. Woolf lets her consciousness roam over the unpredictable terrain of sickness – the sick body, the sick mind – and how difficult it is for us to find words to describe this altered state. This is a brilliant and odd book, charged with restrained emotion and sudden humor." LOS ANGELES TIMES BOOK REVIEW

"Examining her own familiarity with illness, Woolf undertakes a rigorous, compassionate, and droll investigation of how illness shapes the identity of a sick patient, particularly the invalid, not only affecting his or her perceptions of the world but also awakening the helplessness of being unable to convey those perceptions, or the effects of illness, to other. […] Because of its enduring relevance, On Being Ill is a necessary and compelling read. The slender and striking hardbound edition from Paris Press gives an old text new life." YALE JOURNAL FOR HUMANITIES IN MEDICINE

" 'On Being Ill' is one of those peculiarly fascinating essays that Woolf wrote which defy categorization: part mediation, part autobiography and part critical analysis; it refuses to be pigeon-holed. […] I have no hesitation in recommending this new edition…. Paris Press is a non-profit organization and is to be congratulated on this splendid publication. If you do not already have this essay in your collection, this is a must." VIRGINIA WOOLF BULLETIN

"This new and beautiful reprinting by Paris Press, a small nonprofit house in Massachusetts, replicates design elements of the Hogarth edition, including Vanessa Bell's cover art. It also contains a superb introduction by literary scholar and biographer Hermione Lee, who considers 'On Being Ill' one of Woolf's 'most daring, strange, and original essays.' " JOURNAL OF CANADIAN MEDICAL ASSOCIATION
Paris Press, 9781930464063, 64pp.
Publication Date: October 1, 2002
About the Author
Virginia Woolf (1882-1941) is one of the great literary geniuses of the 20th century. Her innovative fiction and essays are revered by readers around the globe. She was a central member of the Bloomsbury group and a groundbreaking feminist, publishing book-length essays that continue to change the lives of women today. Her most popular novels include "To the Lighthouse, Mrs. Dalloway," and "Orlando." When she was not writing, Virginia Woolf operated Hogarth Press with her husband Leonard Woolf.

Hermione Lee (1948- ) is the acclaimed Virginia Woolf scholar and the author of "Virginia Woolf" (Knopf, 1997). She is a biographer, critic, broadcaster, and Goldsmith's Professor of English Literature and Fellow of New College, Oxford, England. She is also the author of "Willa Cather: A Life Saved Up; Philip Roth; Elizabeth Bowen: An Estimation; The Novels of Virginia Woolf"; and "Edith Wharton." She is one of the co-editors of the "Oxford Poets Anthologies."
or
Not Currently Available for Direct Purchase