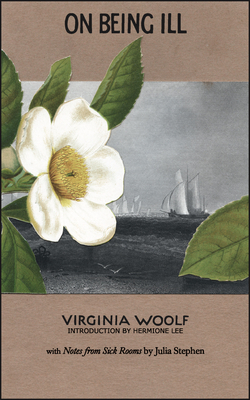 On Being Ill (Paperback)
With Notes from Sick Rooms by Julia Stephen
Paris Press, 9781930464131, 122pp.
Publication Date: November 6, 2012
Description
"By turns lyrical, self-mocking, and outlandish, Woolf's meditation on the perils and privileges of the sickbed lampoons the loneliness that makes one 'glad of a kick from a housemaid.' When Woolf imagines beauty in a frozen-over garden . . . it seems less a triumph of nature than of art."--The New Yorker
"Brilliant and beautiful."--Francine Prose, Bookforum
" A] long-neglected reverie on illness . . . reprinted by the sterling Paris Press. This is a brilliant and odd book, charged with restrained emotion and sudden humor."--Los Angeles Times Book Review
"The resurrection of this forgotten work on illness is a boon indeed. . . . This is Woolf at her spangled best."--Booklist
In this poignant and humorous book, Virginia Woolf observes that no human being is spared toothaches, colds, and the flu. Yet illness--transformative and as common as love and war--is rarely the subject of polite conversation, let alone literature. This paperback facsimile of the 1930 Hogarth Press edition, with Hermione Lee's introduction to Woolf's life, work, and On Being Ill, is ideal for book groups, general readers, students, caregivers, and of course anyone suffering from a cold or more serious illness.
Virginia Woolf (1882-1941) is among the greatest literary geniuses of the twentieth century. Her groundbreaking books include Mrs. Dalloway, To the Lighthouse, and A Room of One's Own.
Hermione Lee is the renowned author of Virginia Woolf. Her other best-selling biographies include Edith Wharton, Willa Cather, and Philip Roth. She is president of Wolfson College, University of Oxford, England.
About the Author
Virginia Woolf (1882 - 1941) is one of the great literary geniuses of the twentieth century. Her innovative fiction and essays are revered by readers around the world. She was a central member of the Bloomsbury group and a groundbreaking feminist, publishing book-length essays ("A Room of One's Own" and "Three Guineas") that continue to changes the lives of women today. Woolf's most popular novels include "To the Lighthouse, Mrs. Dalloway, " and "Orlando: A Biography." When she was not writing, she operated Hogarth Press with her husband, Leonard Woolf. She typeset the original Hogarth Press edition of "On Being Ill."

Hermione Lee (1948 - ) is the acclaimed author of "Virginia Woolf" (Knopf 1997). She is President of Wolfson College, University of Oxford, England. Her other books include "Biography: A Very Short Introduction," "Edith Wharton: A Life Saved Up," "Body Parts: Essays on Life-Writing," "Willa Cather: A Life Saved Up, Philip Roth, " and "The Novels of Virginia Woolf, " among others. Lee has also edited and compiled numerous anthologies and editions of writers such as Rudyard Kipling, Virginia Woolf, Stevie Smith, Elizabeth Bowen, Willa Cather, and Eudora Welty.
Advertisement