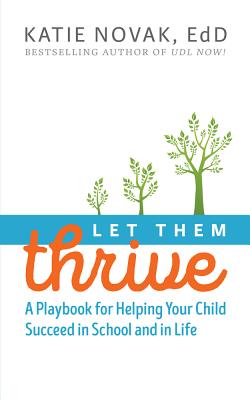 Let Them Thrive
A Playbook for Helping Your Child Succeed in School and in Life
Paperback

* Individual store prices may vary.
Description
Let Them Thrive provides parents with a practical understanding of how education works--and how it can work better--for their children. Every learner is as unique as his or her fingerprints. But one-size-fits-all schooling doesn't account for those variations. In this highly readable book (with unique cartoon illustrations), bestselling author, educator, and parent Katie Novak introduces the research-based framework Universal Design for Learning (UDL). Parents learn the origins of UDL in the learning sciences and in practice. (UDL is prominent in the federal Every Student Succeeds Act). They also learn strategies, tips, and tools to support their children's learning in school and in life. Let Them Thrive is an important new contribution to the growing literature on UDL, the first such book directly aimed at parents.
CAST Professional Publishing , 9781930583160, 170pp.
Publication Date: August 1, 2017
About the Author
Katie Novak, EdD, is an educator and the mother of four young children. She is Assistant Superintendent of the Groton-Dunstable Regional School District in Massachusetts and a leading expert on Universal Design for Learning implementation. With 13 years of experience in teaching and administration and an earned doctorate in curriculum and teaching, Novak designs and presents workshops both nationally and internationally focusing on implementation of UDL and the Common Core. She is co-author of three other books: UDL Now, UDL in the Cloud, and Universally Designed Leadership.