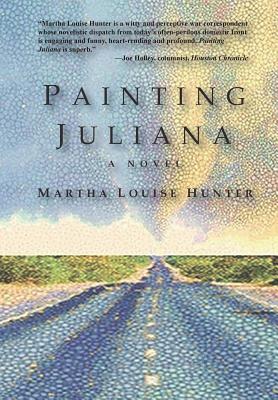 Painting Juliana (Hardcover)
Midpoint Trade Books, 9781930584624, 362pp.
Publication Date: May 20, 2014
* Individual store prices may vary.
Description
Juliana Birdsong is your typical eight-year-old with an obsessive-compulsive mother who's too paranoid to leave the house. Making double-lined, black-out drapes to protect their home from the outside world, her mother only looks up from her sewing machine when Perry Mason comes on TV - the type of successful man Juliana should marry if she wants to get anywhere in life. But Juliana has other things to worry about. Night after night, she's awakened by a terrifying dream where she's chased down a long, tapering highway on the back of her father's motorcycle heading for an enormous, twisting funnel cloud that waits on the horizon. Even after locking it away inside her bedside drawer, Juliana wonders if there are parts of the dream she hasn't seen yet. Years later, she finds dynamic trial lawyer, Oliver Morrissey and she marries him for love. Life is going reasonably well for the priviledged socialite - that is, until she's faced with losing everything, including her children. Stepping out of her Lexus, Juliana peels off her Chanel sunglasses and glares up at her childhood home that's now smothered in ivy. Inside, there's only her estranged father left, who she's sure caused her mother's death. Moving in, she discovers a nude portrait of her with an odd set of tiny red footprints on the ankle, and another surprise she's not expecting: Her father has Alzheimer's and he needs her. Plus, a shipment of mysterious oil paintings arrives, all with his signature. When Juliana puts a brush in his hand, it sets off a surreal time warp and the canvases eerily transform, painting a different picture of the parents she thought she knew. As tragic secrets emerge that mirror her own, Juliana's old demons come back to haunt her. Consumed with his care and desperate for her old life back, the dream is still chasing her and it's catching up fast. Just when she can't run any faster, the funnel cloud is waiting on the horizon, twisting even faster than before.
or
Not Currently Available for Direct Purchase