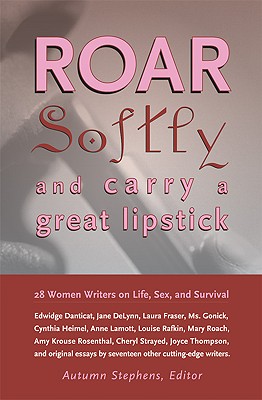 Roar Softly and Carry a Great Lipstick (Paperback)
28 Women Writers on Life, Sex, and Survival
Inner Ocean Publishing, 9781930722385, 229pp.
Publication Date: October 12, 2004
* Individual store prices may vary.
or
Not Currently Available for Direct Purchase
Description
The title of this anthology riffs on Teddy Roosevelt's phallocentric motto, "Speak softly, and carry a big stick." Few American women today are interested in cultivating a Teddyesque machismo but in Roar Softly, women writers recount witty and poignant tales of modern-day survival, from finding love (and sex) as a single mom to overcoming anorexia to adopting a child. Not only do their stories offer reassurance that no woman is alone in her struggles, but they also suggest better battle strategies more womanly battle strategies, if you will for those who shrink from the "muscle your way through" approach. As each essay demonstrates, women can overcome the challenges of their lives not only with strength, but also with grace. Contributors include Anne Lamott, Edwidge Danticat, Mary Roach, Elizabeth Fishel, Laura Fraser, and Anneli Rufus.
Advertisement