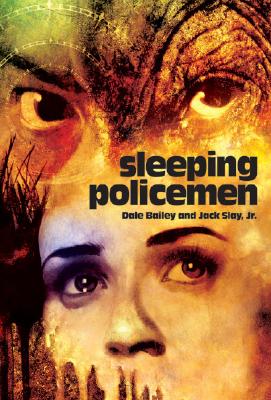 Sleeping Policemen (Hardcover)
Golden Gryphon Press, 9781930846418, 198pp.
Publication Date: June 1, 2006
* Individual store prices may vary.
Description
Horror combines with noir motifs and a fast-moving plot in this tale of four college students who run over a pedestrian while driving at night in the Smoky Mountains. Finding a sheaf of hundred dollar bills and a mysterious key in the pockets of the dead man's coat, their curiosity is piqued and the friends follow clues to a bus station locker and a homemade video depicting the rape and murder of a missing teenage girl. In the hours that follow, the students find themselves under pressure from both a private detective who claims to represent the father of the missing girl and a state trooper who has connected them with the man they left for dead on the fog-shrouded mountain. Suddenly, into their nightmare of guilt and confusion, a shadowy underworld figure known as the Pachyderm appears, vehemently demanding his money and video back. Inexperienced young people battle both criminals and their own flawed instincts in this disturbing lesson about greed, excess, and cultural corruption.
About the Author
Dale Bailey is a professor at Lenoir-Rhyne College, a frequent contributor to "The Magazine of Fantasy & Science Fiction, " and an award-winning short fiction in "Amazing Stories "and "SciFiction. "His""full-length works""include "American Nightmares, The Fallen, House of Bones, "and" The Resurrection Man's Legacy and Other Stories. "He lives in Hickory, North Carolina. Jack Slay, Jr., is dean of students at LaGrange College. His work has appeared in "The Atlanta Journal-Constitution," "Cemetery Dance," "The Chronicle of Higher Education, "and" Mississippi""Magazine." He lives in LaGrange, Georgia.
or
Not Currently Available for Direct Purchase