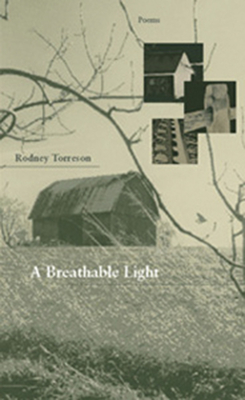 A Breathable Light
Paperback

* Individual store prices may vary.
Description
At the beginning of Rodney Torreson's fascinating second book, everything is in its place—ordinary, time-honored, known. Then, quite without warning, the familiar becomes new, alien, strangely awful or strangely dazzling. In a landscape of ditch, fence, branch, stone, and weed, it seems all living creatures are in league with the dry wind and the icebound ruts—deer, pig, horse, cow, even the innocent, suckling lamb. In subversive ways, A Breathable Light takes the human figure out of his seat in the foreground, strips him of all privileges and asks him to understand himself as nature understands him. . . Thus, as an old gate-post settles into mud, the farmer sees his own quietly abandoned ambition; night falls and a tractor starts up of its own accord; the family dog has wool scraps in its teeth; a saddle slips and the upended rider finds himself galloping in air, "head striking the / grassy sky until [he sees] stars . . ." This is the truth about nature and human nature, and in forty-four beautifully uncluttered poems Torreson shows us the world as it's always been—a realm of unrelenting wonder.
New Issues Poetry and Prose, 9781930974234, 56pp.
Publication Date: September 1, 2002
About the Author
RODNEY TORRESON, after growing up in Iowa, moved with his wife Paulette to Grand Rapids, Michigan, where he teaches at Immanuel-St. James Lutheran School. In addition to A Breathable Light, he is the author of The Ripening of Pinstripes: Called Shots on the New York Yankees, published by Story Line Press.
or
Not Currently Available for Direct Purchase