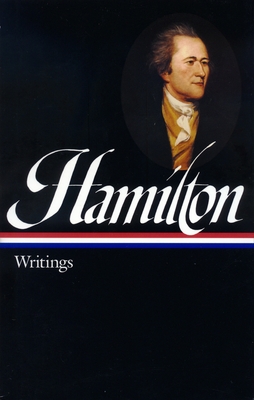 Alexander Hamilton
Writings (LOA #129) (Library of America Founders Collection #4)
Hardcover

* Individual store prices may vary.
Description
Alexander Hamilton, the subject of Lin-Manuel Miranda's smash hit Broadway musical, comes to life in his own words in this critically acclaimed collection, which also includes conflicting eyewitness accounts of the duel with Aaron Burr that led to his death. One of the most vivid, influential, and controversial figures of the founding of America, Hamilton was an unusually prolific and vigorous writer. As a military aide to George Washington, critic of the Articles of Confederation, proponent of ratification of the Constitution, first Secretary of the Treasury, and leader of the Federalist Party, Hamilton devoted himself to the creation of a militarily and economically powerful American nation guided by a strong, energetic republican government. His public and private writings demonstrate the perceptive intelligence, confident advocacy, driving ambition, and profound concern for honor and reputation that contributed both to his astonishing rise to fame and to his tragic early death.

Arranged chronologically, this volume contains more than 170 letters, speeches, pamphlets, essays, reports, and memoranda written between 1769 and 1804. Included are all fifty-one of Hamilton's contributions to The Federalist, as well as subsequent writings calling for a broad construction of federal power; his famous speech to the Constitutional Convention, which gave rise to accusations that he favored monarchy; and early writings supporting the Revolutionary cause and a stronger central government. His detailed reports as Secretary of the Treasury on the public credit, a national bank, and the encouragement of manufactures present a forward-looking vision of a country transformed by the power of financial markets, centralized banking, and industrial development.
Hamilton's sometimes flawed political judgment is revealed in the "Reynolds Pamphlet," in which he confessed to adultery in order to defend himself against accusations of corrupt conduct, as well as in his self-destructive pamphlet attack on John Adams during the 1800 presidential campaign. An extensive selection of private letters illuminates Hamilton's complex relationship with George Washington, his deep affection for his wife and children, his mounting fears during the 1790s regarding the Jeffersonian opposition and the French Revolution, and his profound distrust of Aaron Burr. 

LIBRARY OF AMERICA is an independent nonprofit cultural organization founded in 1979 to preserve our nation's literary heritage by publishing, and keeping permanently in print, America's best and most significant writing. The Library of America series includes more than 300 volumes to date, authoritative editions that average 1,000 pages in length, feature cloth covers, sewn bindings, and ribbon markers, and are printed on premium acid-free paper that will last for centuries.
Praise For Alexander Hamilton: Writings (LOA #129) (Library of America Founders Collection #4)…
"Remarkably comprehensive. . . . Perhaps we ought to revise our estimate of who precisely deserves the title of 'father of the Constitution.'"
— Gordon S. Wood, The New Republic

"Selected with sense and savvy. . . . Firmly establishes Hamilton's place in the American pantheon." 
— Joseph J. Ellis, The New Yorker

"A generous and intelligent anthology of Hamilton's writings." 
— Caleb Crain, The New York Times Book Review

"Anyone interested in politics, finance, diplomacy, history, or the fascination of a strange all-American life will want to have this Library of America volume."
— Los Angeles Times

Library of America, 9781931082044, 1108pp.
Publication Date: October 15, 2001
About the Author
Joanne B. Freeman, volume editor, is professor of history at Yale University and the author of Affairs of Honor: National Politics in the New Republic, and has appeared in the PBS American Experience documentary "The Duel."
or
Not Currently Available for Direct Purchase