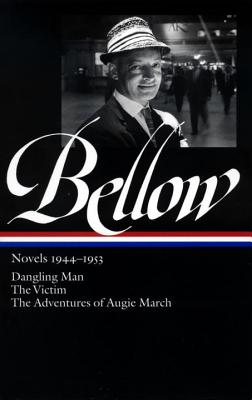 Bellow Novels 1944-1953: Dangling Man/The Victim/The Adventures of Augie March (Hardcover)
Dangling Man/The Victim/The Adventures of Augie March
Library of America, 9781931082389, 1029pp.
Publication Date: September 15, 2003
* Individual store prices may vary.
or
Not Currently Available for Direct Purchase
Description
Winner of the Nobel Prize and a towering figure of twentieth-century literature, Saul Bellow secured his place as one of the most distinctive and significant writers of the postwar era with the publication of his third novel, The Adventures of Augie March. This Library of America volume collects all three of Bellow's early works, beginning with Dangling Man (1944), an incisive character study cast in the form of a diary that depicts the anguish and uncertainty of a man known only as Joseph. Expecting to be deployed to the war overseas, Joseph quits his job and finds himself increasingly on edge when his draft board defers his enlistment. The first of his many books to take place in Chicago, Dangling Man is a spare, haunting novel in which Bellow lays bare Joseph's dilemma with rigorous precision and subtlety. The Victim (1947), which Bellow described as "a novel whose theme is guilt," is an unsettling moral parable. Left alone in New York City while his wife is visiting her family, Asa Leventhal is confronted by a former co-worker whom he can barely remember. What seems like a chance encounter evolves into an uncanny bond that threatens to ruin Leventhal's life. As their relationship grows ever more volatile, Bellow stages a searching exploration of our obligations toward others. In a radical change of direction, Bellow next wrote The Adventures of Augie March (1953). Its eponymous hero grows up in a bustling Chicago peopled by characters as large as vital as the city itself, then sets off on travels that lead him through the byways of love and the disappointments of a fast-vanishing youth. Exuberant, uninhibited, jazzy, infused with Yiddishisms and a panoply of Depression-era voices, Augie March is borne aloft by an ebullient sense of irony. Winner of the 1954 National Book Award and praised by writers and critics ranging from Alfred Kazin to Salman Rushdie and Martin Amis, The Adventures of Augie March has had a lasting impact that shows no sign of abating.
Advertisement