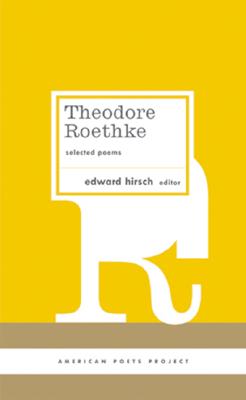 Theodore Roethke
Selected Poems: (American Poets Project #16)
Hardcover

* Individual store prices may vary.
Description
From the recollections of his youth in Michigan to the visionary longings of the poems written just before his death, Theodore Roethke embarked on a quest to restore wholeness to a self that seemed irreparably broken. In the words of editor Edward Hirsch, "He courted the irrational and embraced what is most vulnerable in life."

Hirsch's selection and perceptive introduction illuminate the daring and intensity of a poet who, in poems such as "My Papa's Waltz" and "The Lost Son," reached back into the abyss of childhood in an attempt to wrest self-knowledge out of memory. Roethke's true subject was the unfathomable depths of his own being, but his existential investigations were always shaped and disciplined by an exacting formal stringency, as equally at ease with Yeats' vigorous cadence ("Four for Sir John Davies") as with the spacious Whitmanian idiom on display in the virtuoso efforts of The Far Field. This gathering of Roethke's works also includes several of his poems for children, and a generous sampling from his notebook writings, offering a glimpse of the poet at work with the raw materials of language and ideas.

About the American Poets Project
Elegantly designed in compact editions, printed on acid-free paper, and textually authoritative, the American Poets Project makes available the full range of the American poetic accomplishment, selected and introduced by today's most discerning poets and critics.
Library of America, 9781931082785, 200pp.
Publication Date: April 7, 2005
About the Author
Theodore Roethke (1908-1963) was born in Saginaw, Michigan. One of the most influential poets of his generation, he won the Pulitzer Prize for The Waking in 1954 and two National Book Awards, in 1959 for Words for the Wind and posthumously in 1965 for The Far Field. 

Edward Hirsch is the author of several books of poetry and criticism, including Lay Back the Darkness and How to Read a Poem and Fall in Love with Poetry. His many awards include a National Book Critics Circle award and a MacArthur fellowship. He is president of the John Simon Guggenheim Foundation.