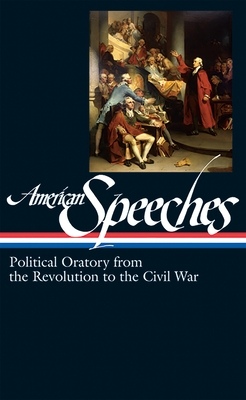 American Speeches Vol. 1 (LOA #166)
Political Oratory from the Revolution to the Civil War (Library of America: The American Speeches Collection #1)
Hardcover

* Individual store prices may vary.
Description
Public speeches have profoundly shaped American history and culture, transforming not only our politics but also our language and our sense of national identity. This volume (the first of an unprecedented two-volume collection) gathers the unabridged texts of 45 eloquent and dramatic American speeches delivered by 32 American public figures between 1761 and 1865, beginning with James Otis's denunciation of unrestrained searches by British customs officials—hailed by John Adams as the beginning of the American Revolution—and ending with Abraham Lincoln's Second Inaugural Address. Rich in literary allusions, vivid imagery, and emotional appeals, political oratory flourished during this period in Congress and at campaign rallies, public meetings, and reform conventions, and reached a wider audience through newspapers and pamphlets.

Included are Patrick Henry's "liberty or death" speech, George Washington's appeal to mutinous army officers, and Henry Lee's eulogy of Washington. Speeches by John Randolph and Henry Clay capture the political passions of the early republic, while three addresses by Daniel Webster—his first Bunker Hill oration, his second reply to Hayne, and his controversial endorsement of the Compromise of 1850—demonstrate the eloquence that made him the most renowned orator of his time.

American speeches by figures that did not hold office are included as well: union leader Ely Moore attacking economic aristocracy; woman's rights speeches by Elizabeth Cady Stanton and Sojourner Truth; Henry Highland Garnet's incendiary call for slave rebellion; Frederick Douglass's scathing "What to the Slave Is the Fourth of July?" John C. Calhoun's defense of slavery, Charles Sumner's "The Crime Against Kansas," Alexander Stephens's "Corner-Stone" speech, and several speeches by Abraham Lincoln reflect the sectional conflicts that culminated in the Civil War.

Each volume contains biographical and explanatory notes, and an index.

LIBRARY OF AMERICA is an independent nonprofit cultural organization founded in 1979 to preserve our nation's literary heritage by publishing, and keeping permanently in print, America's best and most significant writing. The Library of America series includes more than 300 volumes to date, authoritative editions that average 1,000 pages in length, feature cloth covers, sewn bindings, and ribbon markers, and are printed on premium acid-free paper that will last for centuries.
Praise For American Speeches Vol. 1 (LOA #166): Political Oratory from the Revolution to the Civil War (Library of America: The American Speeches Collection #1)…
"These speeches are part of our national heritage, just as much as our Constitution and the Bill of Rights. They should be studied and celebrated!" — President Bill Clinton
Library of America, 9781931082976, 850pp.
Publication Date: October 5, 2006
About the Author
Ted Widmer, editor, is the Beatrice and Julio Mario Santo Domingo Director and Librarian of the John Carter Brown Library at Brown University and the author of Martin Van Buren in The American Presidents Series and of Young America: The Flowering of Democracy in New York City. He was director of speechwriting at the National Security Council and a senior advisor to President Clinton from 1997 to 2001.
or
Not Currently Available for Direct Purchase