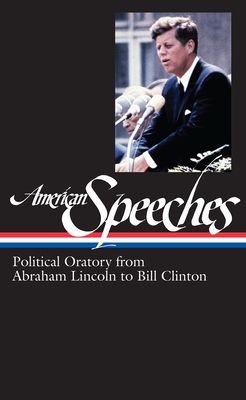 American Speeches Vol. 2 (LOA #167)
Political Oratory from Abraham Lincoln to Bill Clinton (Library of America: The American Speeches Collection #2)
Hardcover

* Individual store prices may vary.
Description
The history of American oratory exhibits, in the words of William F. Buckley, "powerful ignition points for hot flashes of indignation, contempt, rage, veneration and yearning." This volume (the second of an unprecedented two-volume collection) gathers the unabridged texts of 83 eloquent and dramatic speeches delivered by 45 American public figures between 1865 and 1997, beginning with Abraham Lincoln's last speech on Reconstruction and ending with Bill Clinton's heartfelt tribute to the Little Rock Nine. During this period American political oratory continued to evolve, as a more conversational style, influenced by the intimacy of radio and television, emerged alongside traditional forms of rhetoric.

Included are speeches on Reconstruction by Thaddeus Stevens and African-American congressman Robert Brown Elliott, Frederick Douglass's brilliant oration on Abraham Lincoln, and Oliver Wendell Holmes's "touched with fire" Memorial Day Address. Speeches by Robert Ingersoll and William Jennings Bryan capture the fervor of 19th-century political conventions, while Theodore Roosevelt and Carl Schurz offer opposing views on imperialism. Ida B. Wells and Mary Church Terrell denounce the cruelty of lynching and the injustice of Jim Crow; Susan B. Anthony, Elizabeth Cady Stanton, and Carrie Chapman Catt advocate the enfranchisement of women; and Woodrow Wilson and Henry Cabot Lodge present conflicting visions of the League of Nations.

Also included are wartime speeches by George Patton and Dwight Eisenhower; an address on the atomic bomb by J. Robert Oppenheimer; Richard Nixon's "Checkers Speech;" Malcolm X's "The Ballot or the Bullet;" Barry Goldwater's speech to the 1964 Republican convention; Mario Savio urging Berkeley students to stop "the machine;" Barbara Jordan defending the Constitution during Watergate; and an extensive selection of speeches by Franklin Roosevelt, Martin Luther King, John F. Kennedy, and Ronald Reagan.

Each volume contains biographical and explanatory notes, and an index

LIBRARY OF AMERICA is an independent nonprofit cultural organization founded in 1979 to preserve our nation's literary heritage by publishing, and keeping permanently in print, America's best and most significant writing. The Library of America series includes more than 300 volumes to date, authoritative editions that average 1,000 pages in length, feature cloth covers, sewn bindings, and ribbon markers, and are printed on premium acid-free paper that will last for centuries.
Praise For American Speeches Vol. 2 (LOA #167): Political Oratory from Abraham Lincoln to Bill Clinton (Library of America: The American Speeches Collection #2)…
"It's nice to be reminded that American politics has arguably the richest oratorical tradition in the history of Western tradition." — Los Angeles Times
Library of America, 9781931082983, 875pp.
Publication Date: October 5, 2006
About the Author
Ted Widmer, editor, is the Beatrice and Julio Mario Santo Domingo Director and Librarian of the John Carter Brown Library at Brown University and the author of Martin Van Buren in The American Presidents Series and of Young America: The Flowering of Democracy in New York City. He was director of speechwriting at the National Security Council and a senior advisor to President Clinton from 1997 to 2001.
or
Not Currently Available for Direct Purchase