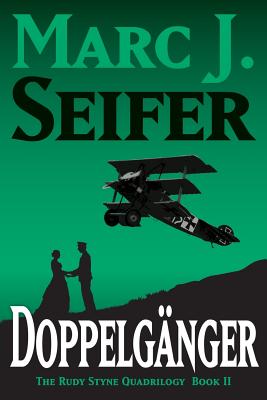 Doppelgänger (Paperback)
The Rudy Styne Quadrilogy Book II
Doorway Press, 9781931261159, 260pp.
Publication Date: August 26, 2016
* Individual store prices may vary.
Description
In the tradition of Exodus and Captain Corelli's Mandolin, comes a sweeping two-tiered family saga with a modern story concerning ace reporter Rudy Styne, who runs into his look-alike at an airport in Munich while tracking a master computer hacker, and a back story about the Maxwells, a turn of the 20th century Jewish family struggling to build the most prestigious airline in Bavaria. The modern story begins, where Book 1, Rasptuin's Nephew ends, with the marriage of Rudy Styne to his alluring (and very pregnant) girlfriend Chessie Barnsworth. At the wedding, an ancient Jewish man, Abe Maxwell, appears who apparently is somehow related to Styne. As the reader will come to find out, in Doppelg nger and its sequel, Crystal Night, Abe Maxwell is also tied to the back story which is somehow related to Rudy Styne's German look-alike.
Concerning the back story, Seifer brings this vital Maxwell family alive as we watch two brothers use their savvy to advance their little airline empire in a hostile environment, with the elder brother, Elias, handling the business end, by in part, assimilating into the Christian community, and the younger brother, Simon, master mechanic and daredevil, handling the production end, constructing aeroplanes for their own airline and also motors for Count Zeppelin. As we watch the century advance through the family's eyes, we also watch Simon enter the very first aerial competitions where he races against such European aeronauts as Sopwith, Bleriot, Fokker and Junkers to build the fastest and most efficient flying machine. But greater forces intervene as Simon finds himself caught up in the Great War as an ace pilot for Germany flying alongside such heavyweights as Hermann G ring, his boyhood friend and later day Nazi party leader, the Blue Max, the Red Baron and Ernst Udet, the greatest surviving German pilot from this first World War, as they battle against the very French and British colleagues Simon had raced just two years before.
In Doppelg nger, Marc Seifer runs a story of the 20th century through German eyes together with a contemporary U.S. murder mystery set in the cyber-world. He masterfully ties the two stories together through Abe Maxwell (b. 1906) who is about 98 years old in the contemporary story. Seifer tied Abe to both Rudy Styne, the hero, from the U.S. to Rolf Linzman, Rudy's sometimes protagonist, of Germany.
In striking contrast to Herman Wouk who used the mythical... "Enduring Jew" in The Winds of War and War and Remembrance, Seifer uses Abe Maxwell... a full-fledged hero whose life, although improbable, remains wholly possible.
Richard Vangermeersch, Professor Emeritus from the University of Rhode Island
or
Not Currently Available for Direct Purchase