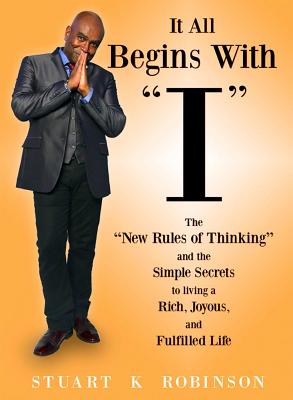 It All Begins with "i" (Paperback)
The
Tallfellow Press, 9781931290050, 160pp.
Publication Date: June 22, 2015
* Individual store prices may vary.
Description
Author and motivational speaker Stuart K Robinson shares his oeNew Rules of Thinking  to examine the futility of trying to alter the system, your boss, your significant other or your life when the most powerful and painless way to effect change is to adjust your beliefs, your blueprint, your actions... yourself. Outlining the fundamental modes of thinking that will empower any person to overcome the boundaries that limit possibility, It All Begins With "I  frees the reader from the non-productive thoughts and behaviors that actually create obstacles. We all know oeyou can (TM)t fight City Hall,  but you can defeat the harmful thinking within yourself that allows and invites oeCity Hall,  your employer, your family, and even total strangers to diminish your experience and enjoyment of this wonderful opportunity called life. "Have you ever wondered why New Year (TM)s resolutions crash and burn around the third week of January? It (TM)s because people don (TM)t have a plan. Stuart K Robinson (TM)s It All Begins with "I" is a must-read that supplies you with not only sure-fire plans and strategies to turn your most sought-after ambitions into powerful realities, but it also provides the effective methods you need to triumph over most any obstacle that stands between you and ultimate success." -- STEVE YOUNG, Award winning television writer and author of Great Failures of the Extremely Successful "Stuart K Robinson shares his 'New Rules of Thinking' with such remarkable humor, insight and precision in both his book and his speeches. He is an author and motivational speaker who does not just give you a thought or two to take a way, he gives you working principles that can change your life." -- JERRY M. BROWNSTEIN, President & CEO, Xextex Corporation USA, Environmental Innovation, 2007 Winner of the Energy Globe World Award for Sustainability.
or
Not Currently Available for Direct Purchase