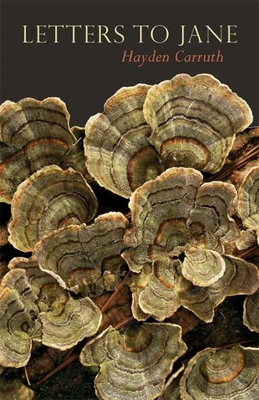 Letters to Jane
Hardcover

* Individual store prices may vary.
Other Editions of This Title:
Paperback (1/1/2004)
Description
Jane Kenyon, who was married to the poet Donald Hall, earned wide acclaim for her clear, vivid, deeply spiritual lyrics, many of them written in the face of her own -mortality.
During the year of her dying, Carruth's faithful correspondence, collected here, is a testament to the depth of their friendship, and a rare window into the inner life of a major poet as he confronts the loss of a dear friend. Both Carruth and Kenyon have devoted followings; Letters to Jane offers unique and personal new insight into their poetry.
Of this book, Francine Prose has written, "Reading these beautiful, eloquent, moving letters from one poet to another, you keep forgetting (as you are meant to) even as, paradoxically, it never leaves your mind for a moment, that this is no casual correspondence. Its occasion is urgent and extraordinary. The recipient is dying.
". . . Carruth writes again and again--honest, direct, affectionate accounts of everyday events: writing and reading, visiting friends, traveling to give poetry readings, enjoying good moods and good health, enduring physical and emotional setbacks, feeding the dog and watching bee balm bloom in the garden.
What's most mysterious and marvelous about these letters--which end around the time of Kenyon's death in 1995--is how they manage to be, simultaneously, so relaxed and so intense, so concrete and so reflective, and how every word and every sentence reminds us of the preciousness of ordinary life, and of the enduring and -sustaining consolations of friendship."
Hayden Carruth is the author of more than 20 books, predominantly poetry. His work has been awarded many honors, including the National Book Award, the Lenore Marshall Award, the Paterson Poetry Prize, the Whiting Award, the Ruth Lilly Prize and a Lannan Literary Fellowship. He has also written widely on jazz and the blues. He lives in Munnsville, NY.
Ausable Press, 9781931337175, 111pp.
Publication Date: September 1, 2004
About the Author
Hayden Carruth was born in Waterbury, CT in 1921, and educated at the University of North Carolina at Chapel Hill and the University of Chicago. He has published more than thirty books, chiefly poetry, but also novels and essays on music, particularly the blues and jazz. He is a chronicler of rural culture and a politically active radical voice. Among his numerous prizes are the National Book Critics Circle Award, the Lenore Marshall Award, the Paterson Poetry Prize, the Whiting Award, the Ruth Lilly Prize, and a Lannan Literary Fellowship.