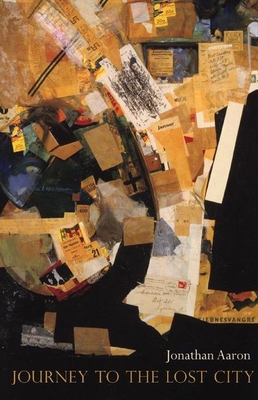 Journey to the Lost City
Paperback

* Individual store prices may vary.
Description
Taking its title from the cult horror movie classic, Jonathan Aaron's third book, Journey to the Lost City, is a work of sharp wit, irony, and disarming tenderness. Cool, metaphysically quizzical, almost Eastern-European in sensibility, Aaron's poems are a far cry from the dull, personal anecdotal quality that infects so much contemporary poetry. Savvy, intelligent, personal yet reserved, they take us on imaginative forays into a world where time swirls the past into the present, juxtaposing historical persons and places with the here and now. This allows the poet to speak with a weird authority that's both wholly American and timeless, intimate yet without the intrusion of a confiding individual self.
Aaron is a poet whose work is well known and admired by poets but has not yet reached the larger audience it deserves, though his poems have appeared numerous times in Best American Poetry and his second book, Second Sight, was a National Poetry Series winner. He is a frequent contributor to The New York Review of Books, The Times Literary Supplement, and the London Review of Books, as well as the Boston Globe, and has taught for many years at Emerson College. Journey to the Lost City is his first book since 1992. It has been eagerly awaited by his fans, and will introduce new readers to a poet of great range and stature.
Ausable Press, 9781931337304, 80pp.
Publication Date: April 1, 2006
About the Author
Jonathan Aaron is the author of two books of poems, Second Sight and Corridor. He has received grants from the National Endowment for the Arts and the Massachusetts Artists Foundation. Aaron has published poetry and criticism in Paris Review, Partisan Review, The London Review of Books, and others.