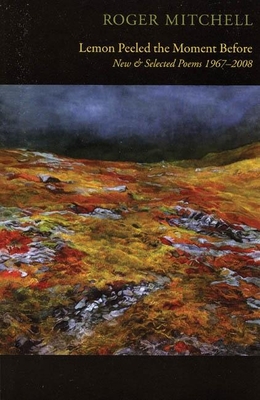 Lemon Peeled the Moment Before
New & Selected Poems: 1967-2008
Paperback

* Individual store prices may vary.
Description
"We want a book--be it a work of fiction or poetry--to remind us how varied and complex our experience of the world can be at times. And yet when we encounter such a book, we realize how rarely we come across one that fits that description and how astonishing it is when we do. . . . Not many poets now writing have as wide a range as he does, both in terms of subject matter and form. His poems are rich in detail, masterly in execution, and always a good read. He is savvy about the way we Americans live and try to make sense of our lives in this moment in history."--Poet Laureate Charles Simic
This book gathers work from Roger Mitchell's previous nine books of poetry and adds a generous selection of new poems.
If the poetry of Roger Mitchell seems restless, so are the times in which it was written. Many sorts of mood congregate here--a mix of attitudes and strategies--but the constant is a readiness to stay alert. At home as much in traffic as on the frozen tundra, Mitchell sees the extent and the limits of almost anything. The poems are sometimes somber, sometimes whimsical.
These are poems for, and of, a time that put a man on the moon, made constant war, destroyed the world's water, and invented the hula hoop. Which world do you live in? Roger Mitchell lives there, too.
Ausable Press, 9781931337410, 230pp.
Publication Date: December 1, 2008
About the Author
Past director of the MFA program at Indiana university, Mitchell is the author of nine books of poetry. His work has appeared in leading journals in the U.S. and abroad and has been anthologized more than thirty times.His awards include the Midland Poetry Prize, the John Ben Snow Award and the Akron Prize in Poetry.