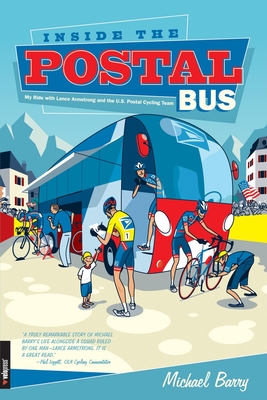 Inside the Postal Bus (Paperback)
My Ride with Lance Armstrong and the U.S. Postal Cycling Team
VeloPress, 9781931382618, 240pp.
Publication Date: August 1, 2005
* Individual store prices may vary.
Description
During the professional cycling season, the members of the United States Postal Team live, train, and work together for weeks on end while traveling to competitions throughout Europe. With wit and singular insight, Michael Barry, a professional cyclist and member of the United States Postal Team, shares his first-hand knowledge of the sport and of his fellow cyclists, describing intricate pre-race orchestrations; the efforts of the coach, mechanics, team chef, and other staff members; the personalities and idiosyncrasies of his international teammates, including six-time Tour de France winner Lance Armstrong; and the thrilling races themselves.
Praise For Inside the Postal Bus: My Ride with Lance Armstrong and the U.S. Postal Cycling Team…
"From winter training camp to the Tour de France, Inside the Postal Bus offers an accurate, behind-the-scenes view of our team."—Lance Armstrong
"Barry has a keen eye for the minor details of professional life. This is the main reason that the book offers a real and rare sense of what it is like to be a part of a major squad."— Cycle Sport magazine
"A great read!"—Phil Liggett
"An evocative account of life as a domestique." — Cycle Sport magazine
"Inside the Postal Bus is so descriptive I felt I knew the riders and staff on the team before I actually met them. Chapter after chapter you really feel like you become a member of the team and get the sensation of what it is like to be on the bus with the boys."—Tom Danielson
"Michael's no jaded pro. His love of the sport is both evident and inspiring, and we are lucky indeed to be privy to his unique insights on being 'Inside The Postal Bus'."—Davis Phinney
"Written in an articulate fast flowing style Barry's gift as a writer is to lift the lid on anecdotes which range from the informative to the chilling." — Cycle Sport magazine
"Michael is so eloquent about cycling. He really told me how it felt to be a cyclist… When you look at it objectively, at the risks and rewards, nobody should be a professional biker. But speaking to Michael Barry I realized why they do it."—Daniel Coyle, author of Lance Armstrong's War
"...check out Inside the Postal Bus by Michael Barry, a Canadian teammate of Armstrong's, who didn't make the cut for the Tour but provided a highly pungent description of the intimate motor home used by the Armstrong entourage."—George Vecsey, New York Times
"Fans will regard Inside the Postal Bus as manna from Heaven in terms of finding out what goes on inside one of the most secretive teams of the peloton. The book offers a real and rare sense of what it is like to be a part of a major squad. Written in an articulate, fast-flowing style, Barry's gift as a writer is to lift the lid on anecdotes which range from the amusing to the informative to the chilling." — Cycle Sport magazine
or
Not Currently Available for Direct Purchase